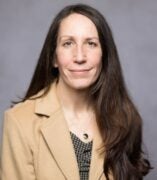 Alison Doubleday, PhD
Chicago Dental Society Clinical Professor, Associate Professor, Director Faculty Development (Faculty Affairs)
Oral Medicine and Diagnostic Sciences
Pronouns: She/Her
Contact
Address:
801 S. Paulina Street, IL 60612
Office Phone:
Email:
About
Alison Doubleday, PhD is a biological anthropologist and anatomy educator. She is the recipient of multiple teaching awards, including the American Dental Education Association (ADEA)/Colgate-Palmolive Co., Excellence in Teaching Award. Dr. Doubleday conducts educational research focused on collaborative learning in science classrooms, the use of technology to mediate collaborative learning, curriculum development in health professions education, and various topics in faculty development.
Selected Publications
2023    Sabato E, Doubleday AF, Lee CT, Correa LP, Huja S, Crain G. Recommendations for remaining agile in the face of a dental faculty workforce shortage. J Dent Educ. 87(3):295-302.
2022   Nayahangan, LJ, PF Clementsen, AF Doubleday, JM Riddle, J Annema, and L Konge.  Developing a simulation-based training curriculum in transesophageal ultrasound with the use of the EBUS-endoscope (EUS-B). Endoscopic Ultrasound 11(2):104-111.
2020    Roach VA, Mi M, Mussell J, Van Nuland SE, Lufler RS, DeVeau K, Dunham SM, Husmann P, Herriott HL, Edwards DN, Doubleday AF, Wilson BM, Wilson AB. Correlating spatial ability with anatomy assessment performance: A meta-analysis. Anat Sci Educ. doi: 10.1002/ase.2029.
2018    Goben, A and Doubleday, AF. Copyright in Health Sciences Literature: A Narrative Review. Journal of Copyright in Education and Librarianship. 2(2). doi: https://doi.org/10.17161/jcel.v2i2.6654
2018    Chowaniec, Jaime, L Salzmann, C LeHew, A Koerber and AF Doubleday.  Timing of case-based discussions and educational outcomes in dental students. Journal of Dental Education. 82(5): 510-14.
2018   Marone, Jane, S Thakkar, N Suliman, S O'Neill, and AF Doubleday.  Social media interruption affects the acquisition of visual, not aurally-acquired information during a pathophysiology lecture. Advances in Physiology Education. 42(2): 175-181.
2016    Doubleday, AF and A Goben. Exploring faculty perceptions of copyright at dental education institutions: a pilot study. Journal of Dental Education. 80(11):1308-18. This publication received the Olav Alvares Award for outstanding article by junior scholars published in the Journal of Dental Education.
2016   Doubleday, AF and CL Briggs. Group learning assessments as a vital consideration in the implementation of new peer learning pedagogies in the basic science curriculum of health professions programs. Journal of Medical Education and Curriculum Development. 2016(3): 97-103.
2016    Doubleday, AF and LMJ Lee. Dissecting the voice: health professions students' perceptions of instructor age and gender in an online environment and the impact on evaluations for faculty. Anatomical Sciences Education. (currently in Early View, published online ahead of print) doi: 10.1002/ase.1609
2015    Doubleday, AF, B Brown, PA Patston, P Jurgens-Toepke, MD Strotman, A Koerber, C Haley, CL Briggs, and GW Knight. Social Constructivism and Case-writing for an Integrated Curriculum. Interdisciplinary Journal of Problem-based Learning. 9(1):44-57.
2014    Doubleday, AF and SJ Wille.  We are what we do: examining learner-generated content in the anatomy lab through the lens of activity theory. Anatomical Sciences Education, 7:361-69.
2013    Doubleday, AF.  Use of card sorting for course site organization within an integrated science curriculum. Journal of Usability Studies 8(2):41-54
2011    Doubleday, EG, VD O'Loughlin, and AF Doubleday. The Virtual Anatomy Laboratory: Usability Testing to Improve an Online Learning Resource for Anatomy Education. Anatomical Sciences Education 4(6):318-26.
2009    Doubleday, AF, FA Kaestle, LA Cox, MC Mahaney, LM Havill.  LRP5 Sequence and Polymorphisms in the Baboon. Journal of Medical Primatology 38(2): 97-106.
2008    Grieshaber, BM, DL Osborne, AF Doubleday, FA Kaestle. A Pilot study into the effects of X-ray and computed tomography exposure on the amplification of DNA from bone. Journal of Archaeological Science 35 (3): 681-87.