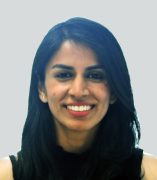 Nourah Abdul Kader
Orthodontic Resident
Orthodontics
Contact
Building & Room:
Room 131
Address:
801 S. Paulina Street, Chicago, IL 60612
Office Phone:
Email:
About
Dr. Nourah Abdul Kader was born in Saudi Arabia and raised in India. She graduated from dental school in India with honors in 2018 and later attended the Advanced standing program for International dentists at Southern Illinois University to receive her DMD degree. Nourah is the recipient of the International leadership award, Larry M. Lowe scholarship, and Doris and Bill Gvillo scholarship, and was inducted into Phi Kappa Phi and Omicron Kappa Upsilon honor societies. Nourah has diverse interests in research and has published articles on 3D printing, Obstructive sleep apnea, and Oral candidiasis in reputed journals. Her current research interests include machine learning and biomechanics in orthodontic tooth movement.
Growing up in a household where her eldest sister was autistic, Nourah became sensitized by the need of the developmentally challenged. She has been voluntarily supporting multiple institutions that work with special needs and autistic kids. She also runs a startup - Caapid Simplified, that supported over 300 international dentists secure careers in the US. Nourah believes in breaking barriers and showing other women dentists that they can do it too. All her choices in life have been about breaking the stereotype where it limits growth. She most recently has been pursuing strength training to show herself and the world that strength comes from within. Learn more about her journey on her Asana Ortho Instagram handle.