UIC Dental Student Podcasting His Way Through Dental School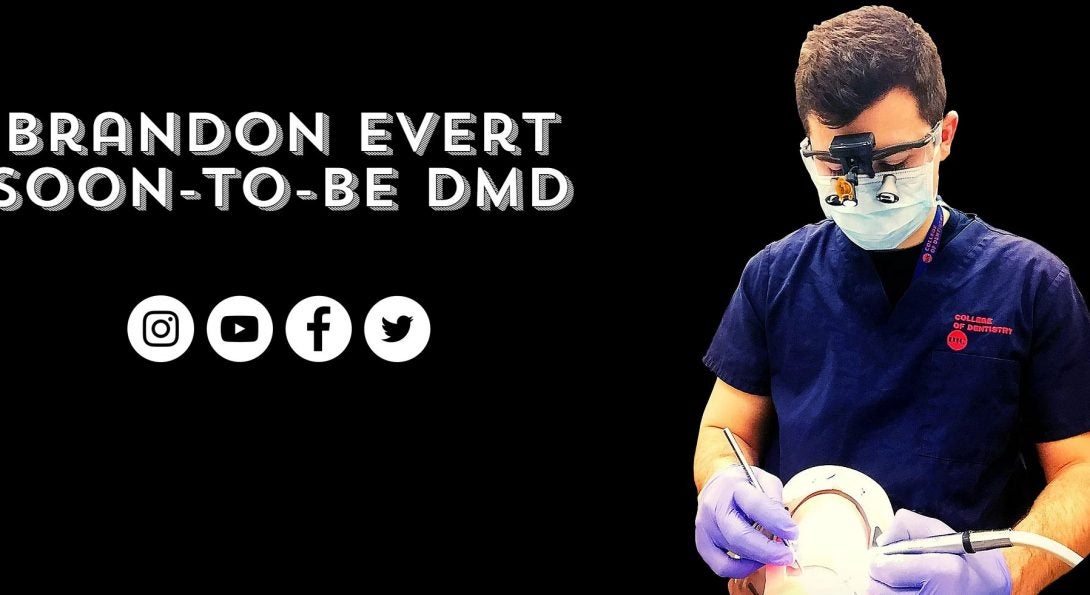 "There's no better time to start a podcast than right now," Brandon Evert, D1 at UIC College of Dentistry, said in his first episode of his popular Extracting Wisdom podcast, during his final year of undergrad. "I'll get to share my tips for getting into dental school, while reflecting on what life is like as a new dental student."
Evert hopes his podcast will foster an enthusiastic community of future dentists that is going to rock the world of dentistry! Now at over 30 episodes, Extracting Wisdom brings together a range of helpful topics organized into bite-sized episodes that no future dental student should go without. 
In each episode, Evert shares his own life experiences to help pre-dental students crush their undergrad career, no matter if they are just getting started or already applying. He also brings on guests, outside experts and other dental students to share their own journeys and experiences with  dental students on their way to becoming a dentist.
Evert is an alum of Indiana University at Bloomington where he received a Bachelor's of Science in biology and minor in chemistry. 
Driven to help other students, Brandon also published a book The Ultimate Pre-Dental Guide: A Pre-Dent's Guide To Successful Dental School Admission. This 68 page guide features an in-depth and current approach for managing the necessary requirements for students to gain dental school admission. Dental students get practical planning resources such as an AADSAS Application Checklist, DAT study schedule and preparation tips, DAT Biology study guide, sample personal statement and more! Armed with the knowledge of this guide, pre-dental students will find it easy to navigate the world of pre-dentistry and get one step closer to their dream career in dentistry.
In episode 10 of his podcast, Evert recounts his journey as a HPSP (Health Professions Scholarship Program) scholarship recipient. The HPSP is a military scholarship awarded to medical and dental students, in return for serving at least four years as a dentist in the student's choice of military branch, either Army, Navy, Airforce or Marines, after graduation from dental school. "The HPSP is great because it removes the financial stress felt by many dental students who must deal with student loan debt after graduation," says Evert.  "Not only will I get my dental school costs taken care of,  I will also get a guaranteed job right out of school providing top-notch leadership training."
Extracting Wisdom Podcast
Prevent the decay of YOUR future by Extracting Wisdom with Brandon Evert! Discover what life is like as a pre-dental student and learn Brandon's proven strategies for successful dental school admission. Follow him throughout his dental school years as he documents the journey towards his dream career in dentistry. He hopes to create an enthusiastic community of future dentists that will rock the world of dentistry!
Contact Brandon:
Instagram: @brandonevertdmd 
Facebook: Brandon Evert DMD
Jumpstart YOUR Career In Dentistry: 
The Ultimate Pre-Dental Guide