UIC College of Dentistry Students to go on Rotations Starting in Third Year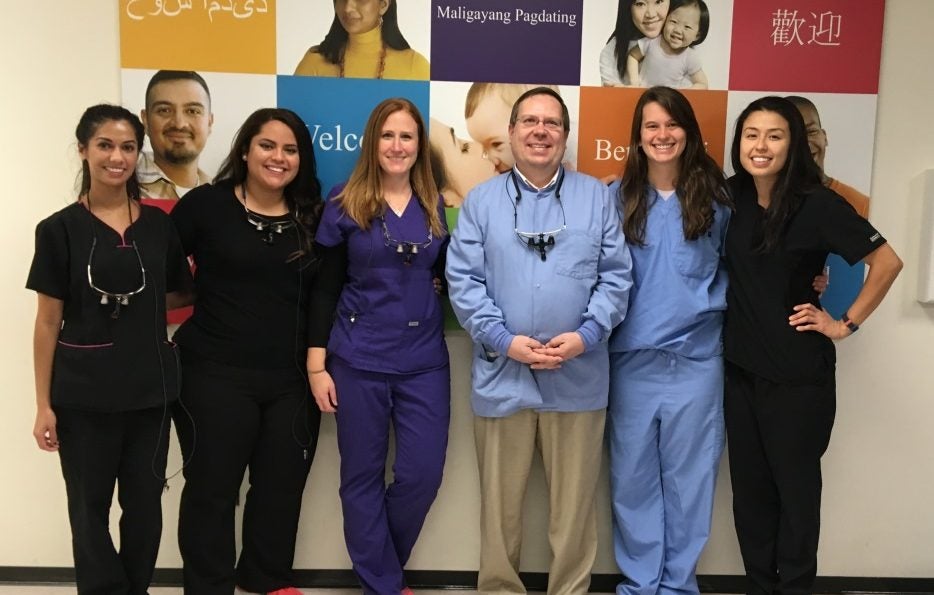 A U.S. Department of Health and Human Services' Health Resources and Services Administration (HRSA) grant of over $1 million over five years obtained in 2017 will enable third-year DMD and DMD Advanced Standing students of the University of Illinois at Chicago College of Dentistry to go out on rotations to community clinics for the first time.
"The D-3s go out on rotation in the spring semester and the AS-3s in the Summer semester," said Khatija Noorullah, clinical community academic manager.
"The goal of the grant is to have our students become comfortable treating kids five years old and under, so upon graduation they will be more likely to treat such children in their offices," Noorullah added.
"This funding is intended to give students experience in treating this age group, and it also is in this group that we can begin to dissect the risk factors that lead to early childhood caries," said Dr. Caswell Evans, associate dean for prevention and public health sciences.
There will be three sites available, with D-3s going to two and AS-3s going to one.
"All of the students in those classes will go," Noorullah said.
At the Douglas County Health Department, they will serve a rural and Amish population. At the DuPage County Health Department, they will serve special needs patients. At the Englewood Neighborhood Health Center Woman, Infants, and Children Clinic on 63rd Street, they will perform screenings on young children and provide education to parents.
The HRSA grant also funds community-based experiences for students in all of their years in dental school.
For DMD students, "In the D-1 year, the students go to the Chicago Public Schools or other schools to provide oral health education," Noorullah explained. "In the D-2 year, they will be going to a UI Health Mile Square Health Center, a federally qualified health center operated by the University of Illinois Hospital & Clinics, and they will provide patient education. In the D-3 year they will go to the three sites [mentioned above], and in the D-4 year they will continue go to community clinics for 16 weeks.
"So now, throughout the four years of our curriculum, there are service learning community-based experiences for our students," Noorullah said.
Photo caption: DMD and DMDAS Special Care Dentistry track students in their last year have been caring for patients at the DuPage County Health Department clinics as part of the College's HRSA grant. The students are assisting Dr. Robert Rada, Clinical Professor, Oral Medicine and Diagnostic Sciences, to be sure the College's D-3 and AS-3 students have a great learning opportunity in their rotations. With Dr. Rada, Special Care Dentistry Track students in the picture are Gayatri Satam, Melissa Villafane, Laurel Frausto, Gabi Revis, and Camila Peralta-Sugano. (Not pictured is DMDAS student Myla Alder.)