UIC College of Dentistry hosted the dedication of the Illinois Children's Healthcare Foundation Pediatric Dentistry Outpatient Care Center (ILCHF PD-OCC) on March 10, 2022
UIC College of Dentistry hosted the dedication of the Illinois Children's Healthcare Foundation Pediatric Dentistry Outpatient Care Center (ILCHF PD-OCC) on March 10, 2022 Heading link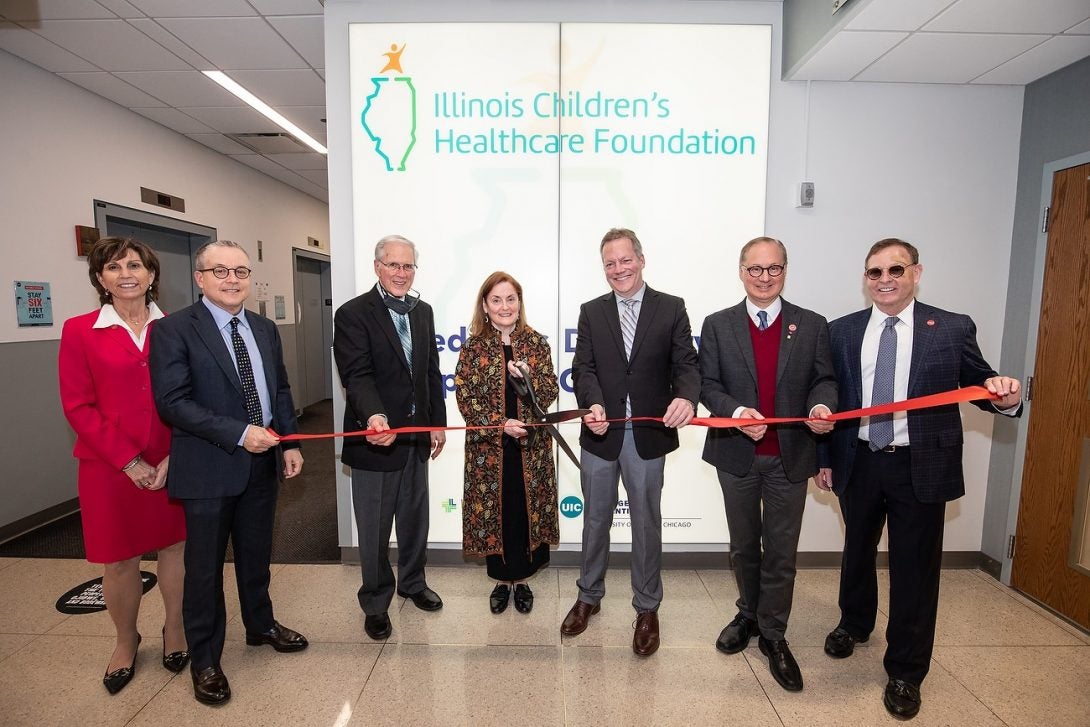 A year and a half after its soft-opening in September 2020, the UIC College of Dentistry proudly hosted the dedication and ribbon-cutting ceremony of the Illinois Children's Healthcare Foundation Pediatric Dentistry Outpatient Care Center (ILCHF PD-OCC) on March 10, 2022. The formal dedication was delayed out of an abundance of caution due to the COVID-19 pandemic, and held after the announcement that the ILCHF PD-OCC treated its 1,000th patient back in September 2021.
Driven by Illinois Children's Healthcare Foundation's (ILCHF) primary grant, the ILCHF PD-OCC created an opportunity to provide comprehensive dental care under general anesthesia (GA) in a timely and efficient manner. ILCHF was beneficial in connecting the College to other private foundations that allowed the College establish the ILCHFF PD-OCC, which fulfills a crucial part of the College's own mission and vision. The funds from supporters like the Delta Dental of Illinois Foundation, Coleman Foundation, Healthy Communities Foundation, Oak Park River Forest Community Foundation, the Bisco Charitable Foundation, the UIC Division of Specialized Care for Children and program alumni, among others, totaled $3.3 million for the infrastructure to create the ILCHF PD-OCC.
The ILCHF PD-OCC was an ongoing project that began due to a high number of children who have come to the department's clinics at the College in need of dental care under GA. In total, there are two GA suites and four procedure rooms for oral, nasal, or intravenous sedation for oral surgery procedures. The center serves 1,000 children annually between 3 and 16 years of age who are in need of oral health care under GA. Pediatric dentistry faculty and residents, three nurses, two university hospital anesthesiologists, three social workers, and auxiliary staff, among other members, are a part of the team serving healthy children at low risk for complications.
The Department of Pediatric Dentistry at the UIC College of Dentistry is the largest provider of pediatric dental care in Illinois, serving almost 9,000 individual patients from birth to 16 years of age in over 25,000 appointments every year. The College is honored and grateful for the generous donations which allow us to continue serving underserved populations in an even greater way. The ILCHF PD-OCC has treated over 1,600 children under GA to date, decreasing the wait for treatment from two years to approximately 3 weeks.