Simulation Training for Dental Students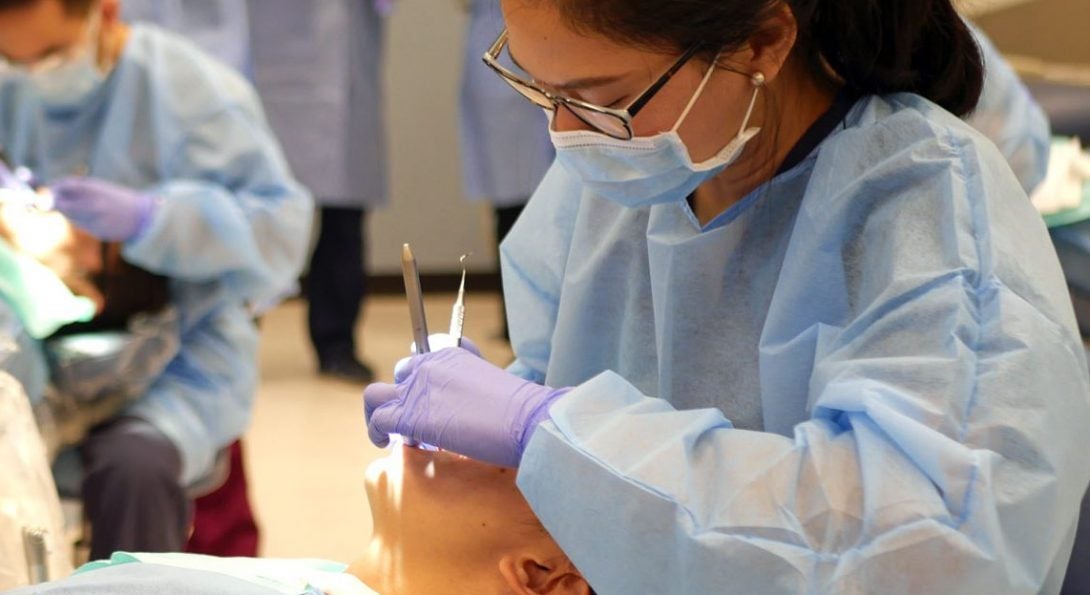 Simulation plays a big part in the dental training curriculum at UIC College of Dentistry. The college employs a wide variety of teaching methodologies and tools including patient models, peer-to-peer training, digital workflows and health information training, as well as team based problem solving. Much of this is enhanced through the use of simulation.
Our simulation environments and technology at UIC College of Dentistry "helps us to prepare the next generation of oral health professionals, so they can be a valuable part of a coordinated care team," said Clark Stanford, Dean of the College of Dentistry. "It is our job to ensure our students are ready and prepared to address the healthcare needs of the 21st century and beyond."
By the Numbers
Simulation plays a big part in the dental training curriculum at UIC College of Dentistry. Here are the numbers:
5,323 square feet of simulated learning space 

192 students participate in simulation learning every year

1,000+ learning hours each year in which students participate 
UIC dental students spend two years in simulation clinics that are designed to replicate what the patient care clinic looks like. They train using the same equipment, instruments and materials that they will be utilizing once begin their patient training under the supervision of faculty.
During the first two years of the DMD program, students gain comprehensive, in-depth understanding of dental biomedical and clinical sciences covering several biomedical topics including human biology, anatomy, general health, oral health, dental sciences, pharmacology, and pathology. The principles of oral disease prevention, patient management, and physical examination are also studied. 
"In their first year, our dental students are taking blood pressure on each other, doing a blood glucose measurement or they are performing an intra or extra oral examination of the soft tissues," said Priscilla Chang, Clinical Associate Professor, one of the DMD pre-patient course directors. They will also spend a great deal of time working on dentoforms (mouth models) meant to provide a realistic tactile training experience.
Students practice impressions and repeat procedures over and over under the watchful guidance of expert faculty. "Simulated care procedures are essential to demonstrating competency and the ability to evaluate their work," said Susan Rowan, Executive Associate Dean for Clinical Affairs at UIC College of Dentistry.
Pre-patient simulation training helps to ensure a smooth transition into the patient clinics. These techniques help students hone their hand skills and coordination which is essential in dental practice. Students achieve high levels of competency and become very well prepared prior to entering patient care clinics to continue training in the third and fourth years of the program.
VIDEO: Simulation in Dental Student Training
Technology in Dental Training
Our clinical facilities incorporate the latest in health technology to meet patient care and student learning needs. Students, faculty, and staff have access to leading edge digital equipment to enhance learning and apply best practices for patients. Likewise, a wide range of digital technology is used for simulated training. Students learn using simulated digital health records and diagnostics tools such as 3D scans. The simulation clinical labs are equipped with chair side computers for easier transfer of records. For instance, they learn how to correctly write clinical notes and share with other providers. The College of Dentistry also has a digital design center where students are trained on CAD/CAM (computer aided design / manufacturing) to prepare dental restorations digitally.  
Basic Life Support (BLS) and CPR Training
Students at the College of Dentistry also use simulations as part of Basic Life Support (BLS) and CPR training, as well as emergency medical skills training. They demonstrate their skills in class using our simulator named "Airway Larry."
"Patients in dental clinics do sometimes require basic life support, so dentists must be prepared" said William Flick, Clinical Professor and Director, Undergraduate Oral and Maxillofacial Surgery. This is due less so from dental care, but because a large portion of the population are at higher risk of a cardiac event. "Our students are trained to be a healthcare provider with the skills to provide resuscitative care just like medical or nursing students."
Advanced Anesthesia Training Using Simulation
For advanced oral and maxillofacial surgical care and outpatient anesthesia provided in our Oral and Maxillofacial Surgery (OMFS) clinic in the College of Dentistry, various levels of sedation are utilized, from minimal to moderate to deep IV sedation and general anesthesia. Oral and maxillofacial surgery residents receive simulation-based, hands-on anesthesia and emergency management training in conjunction with didactic and continuing education courses in order to provide the highest levels of patient safety in anesthesia care. In addition to the anesthesia training received in the OMFS clinics, OMFS residents train side-by-side with anesthesiologists in the UI Health hospital, where they function as anesthesiology residents. "The OMFS training program at UIC provides education and training in anesthesiology beyond what is typically required in routine dental practice," said Michael Miloro, Head of Oral and Maxillofacial Surgery at UI Health.  "Our oral and maxillofacial surgery residents are exposed to a wide variety of outpatient as well as inpatient clinical experiences for both adult and pediatric anesthetic management. These surgeons-in-training are instructed in the basic principles of medicine, pharmacology, and anesthesiology, as well as in the pre-anesthetic assessment and prevention and management of emergencies and complications. "OMFS residents are well prepared for the provision of safe and efficient ambulatory anesthesia for adult and pediatric patients in their clinical practices," added Miloro.
VIDEO: Anesthesia: Safety and Comfort in the OMS Office
Anesthesia: Safety and Comfort in the OMS Office from AAOMS.org on Vimeo.
Simulation has become an essential teaching tool that strengthens the connection between dentistry and other health care teams. "It is important that as we go forward, oral health is connected to general health and we can do that through improving the way we educate our students so that they are firmly integrated within all of the Health Sciences," said Stanford.