Research to Fight Periodontal Disease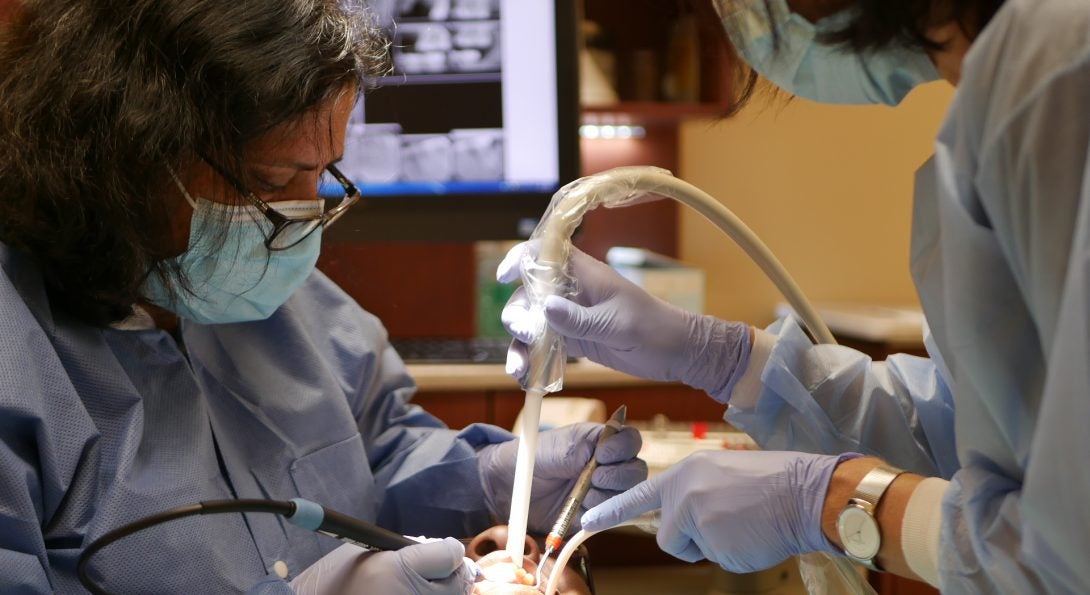 Periodontal disease, also known as gum disease, is caused when bacteria in plaque (a sticky, colorless film that forms in the mouth) builds up between the gums and teeth. When the bacteria begin to grow, the gums surrounding the tooth can become inflamed. If left untreated, this inflammation can cause the gums and supporting bone structure to deteriorate. This can lead to gum recession or even tooth loss. In addition, research has shown that gum disease may be associated with other diseases, such as diabetes and heart disease.
The periodontal clinicians and scientists at UIC are leading the way in incorporating the latest scientific knowledge to improve periodontal care.
For instance, we're exploring the factors that trigger the disease related inflammation at a molecular level. We're looking at the human immune system to identify biomarker compounds (microRNAs) that will help detect and control inflammation in new non-surgical therapeutic solutions. Ultimately, we want to advance the science to improve care and outcomes for the millions of people suffering from periodontal disease.
About Half of All Adults in America (64 Million) Have Periodontal Disease 
"Our research is very innovative and can have a huge impact, in that we're benefiting not only the science, but also informing real solutions to improve care for millions of people."
The advantages of getting periodontal care at a premier research university in Chicago
As a research university, we can offer patients the most up-to-date treatment methods backed-up by data and scientific rigor not typically found in most dental offices.
Commonly – and especially with complex and challenging dental conditions – we find the opportunity to incorporate the latest scientific advances, technology and clinical research findings into how we provide dental care. Through this we not only learn, and apply this knowledge to benefit our patients' care, but we also contribute back to the scientific community and the profession through our own scientific endeavors.
Our patients appreciate being well informed and confident in their decision making about their health. And, in some cases, we can provide them with new treatment options based on the latest knowledge. Many of our specialists are board certified, and are clinician-scientists who perform research alongside patient care and are leading experts in the field of oral health and bio-medical research. And because we provide in-house patient care services, we can transfer that new knowledge directly into the clinic and to patients.
In terms of care outcomes, we strive to achieve the absolute best in outcomes possible in each personalized case. One way we do this is by educating ourselves, in addition to future dental professionals. Every week, our specialists are readings hundreds of new academic publications every month to stay on the leading edge of what is effective in the science and in health care delivery. This is on top of leading and attending various continuing education events as well as publishing our own academic papers. And, we bring a wealth of globally sourced knowledge into our work because many of our specialists have practiced in other countries around the world.  
Periodontists at UIC are experts in treating periodontal disease.
We provide a full range of periodontal care from non-invasive therapies such as deep cleaning (scaling and root planing) to more advanced surgery procedures such as pocket reduction, grafting, crown lengthening, and regenerative procedures to manage periodontal and implant disease. Our approach is personalized and focuses on educating patients about the scientific link between periodontal disease and systemic disorders such diabetes, cardiovascular disease and complication during pregnancy.
Bone Grafting Innovation
Dr. Tolga Tozum has been teaching, researching and practicing about advanced periodontics and implant dentistry since 2002. Dr. Tozum's most recent research is focused on improving dental implant stability, and bone tissue healing, such as after a tissue/bone graft.  
"The problem with conventional dental tissue graphing is finding the best material that heals fast and well enough to return the bone to its original natural position in order to place implants to restore teeth," says Dr. Tozum. The bone material most commonly used in dental practice has a healing period of 6 months, which is a long time for patients to wait without teeth.
At UIC, our specialists are able to use the latest materials and techniques to offer a 3 month healing period in some cases -- halving the wait time without a tooth (or teeth) before implant placement.
Did you know? 
Half of American adults suffer from periodontal (gum) disease.
Data from the Centers for Disease Control and Prevention show high prevalence of periodontal disease in the U.S. population; American Academy of Periodontology encourages yearly comprehensive periodontal evaluations to assess for disease.
Take these preventive steps to reduce your risk for periodontal disease.
Luckily, periodontal disease is preventable. Adding these habits to your daily routine can help.
Brush your teeth. Brushing after meals helps remove food debris and plaque trapped between your teeth and gums. Don't forget to include your tongue, bacteria loves to hide there. 
Floss. Flossing at least once a day helps remove food particles and plaque between teeth and along the gum line that your toothbrush can't quite reach.
Swish with mouthwash. Using a mouthwash can help reduce plaque and can remove remaining food particles that brushing and flossing missed.
Know your risk. Age, smoking, diet and genetics can all increase your risk for periodontal disease. If you are at increased risk, be sure to talk with your dental professional.
See a periodontist. Get an annual comprehensive periodontal evaluation (CPE) from a dental professional. A CPE looks at your teeth, plaque level, gums, bite, bone structure and other risk factors for periodontal disease. Identifying symptoms of gum disease early is key to protecting your teeth and gums.
Experts in periodontal disease prevention and treatment in Chicago
Periodontists at the College of Dentistry are experts in treating periodontal disease and replacing missing teeth with dental implants and in the management of implant diseases. The Periodontics clinic offers treatment of the gingiva ("gums") and supporting structures of the teeth, including diagnosis, prevention, surgery, and maintenance utilizing the most up to date cutting edge therapies available. We also provide comprehensive and collaborative implant care including treatment planning, surgical placement, and implant site development (Bone Grafting, and Tissue Grafting).Treatment is provided by dentists training to be specialists in Periodontics. We offer a wide range of periodontal therapy including: Non-Surgical Treatments; Gum Graft Surgery; Regenerative Procedures; Dental Crown Lengthening; Dental Implants; Pocket Reduction Procedures; Plastic Surgery Procedures. New patients receive a free 30 minute screening and consultation that will include a brief examination and an initial estimated cost of treatment. A follow-up appointment may be needed for an extensive comprehensive exam.
More about how we treat periodontal disease at UIC
Appointments and Location
We accept referrals from providers inside and outside the College of Dentistry. Patients who either have a referral from an outside provider, or have been screened in our clinics may schedule an appointment by phone or email.
  312.996.7374

  periodontics@uic.edu
  Periodontics Referral Form
801 S. Paulina St. Room 313
Department of Periodontics
Chicago IL, 60612 
Learn more about Periodontal Therapy at UIC College of Dentistry