How to Take Care of Your Teeth as the Weather Gets Colder
How to Take Care of Your Teeth as the Weather Gets Colder Heading link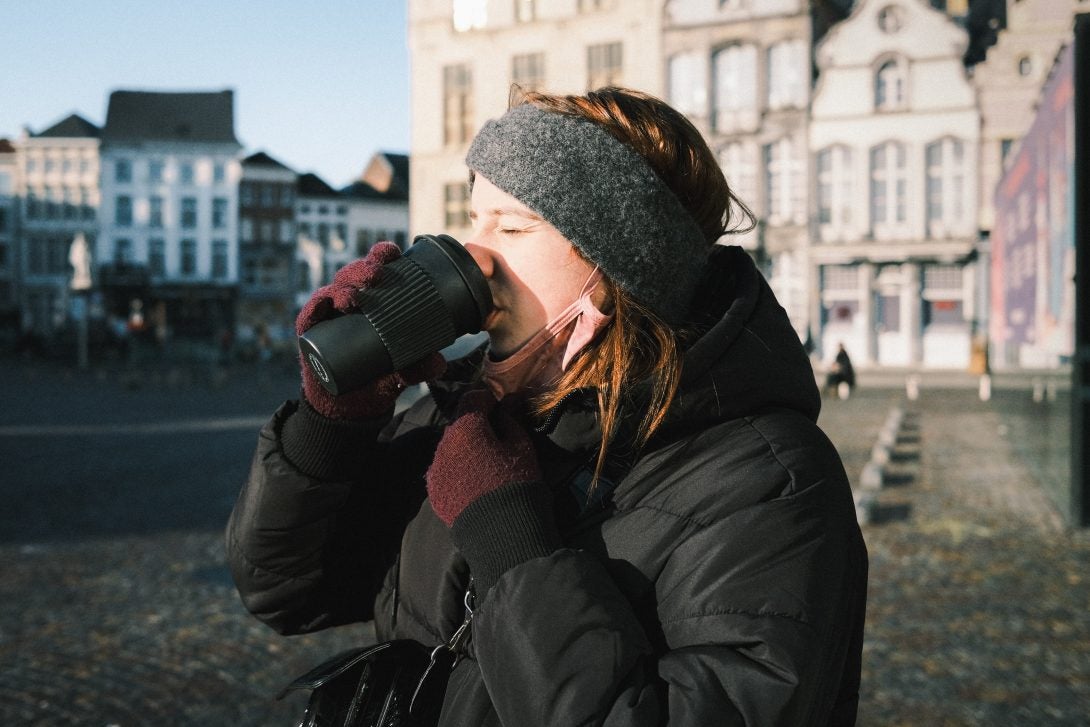 Cold weather is known for drying out your skin, but the dropping temperatures can also increase your risk for dental problems. You might find the joints and muscles in your jaw feeling tighter than usual, and your teeth feeling more sensitive as winter starts to roll in.
These problems exist year-round, however, dentists ask their patients to be mindful of dental maintenance around the cold months as some find their teeth feeling extra sensitive. One way to exercise caution is giving your enamel an extra boost of care – whether that's using a toothpaste designed for sensitive teeth, or using a soft-bristled toothbrush that will be gentler on your enamel.
UIC College of Dentistry's Dr. Scott Tomar, Associate Dean for Prevention and Public Health Sciences, recommends staying away from sugary chewing gums or candies during this time of year, especially because they can cause tooth decay. It's important to keep your mouth moist as the temperature drops.
"Cold outdoor weather and heated indoor spaces tend to dry out the soft tissues lining our mouth," says Dr. Tomar. "The best thing to drink to keep your mouth moist is tap water that contains fluoride. Luckily, almost all public water in Illinois is fluoridated*."
How to Take Care of Your Teeth as the Weather Gets Colder Heading link
Tips to protect your enamel:
Drink fluoridated tap water
Avoid acidic foods and drinks
If your mouth feels dry, don't chew gum or candy that contains sugar; Instead, look for ones that contain xylitol
Avoid chewing ice, hard candy, or abrasive foods
Use a soft-bristle toothbrush
Brush and floss daily
Ask your dentist for an anti-clenching device if you struggle with tooth grinding
Dental and mouth issues to look out for are:
Cold sores and canker sores
Chapped lips
Dry mouth
Tooth and gum sensitivity
Jaw pain
Gum infection
Tips for dental care during the winter:
Floss daily
Brush your teeth at least twice a day
Replace your toothbrush after you've been sick so as to not re-infect yourself
Visit your dentist for a checkup and cleaning at least once a year
Cover your mouth with a scarf to keep warm
Contact your dentist if you experience symptoms
It is important to practice good oral hygiene throughout the year and to take the necessary steps to protect your teeth. Schedule an appointment with your dentist if you experience symptoms or have any questions.
The College of Dentistry offers services in comprehensive, urgent, and specialty care. If you'd like to schedule an appointment, please visit https://dentistry.uic.edu/patients/request-an-appointment/.
References:
* https://oralhealthillinois.org/data-and-maps/community-water-fluoridation/
https://silveradofamilydental.com/3-ways-cope-teeth-hurt-cold-outside/
https://www.carecredit.com/well-u/health-wellness/oral-dental-health-winter-problems-tips/
Modified on February 08, 2022