How to Prepare for the Dental School Interview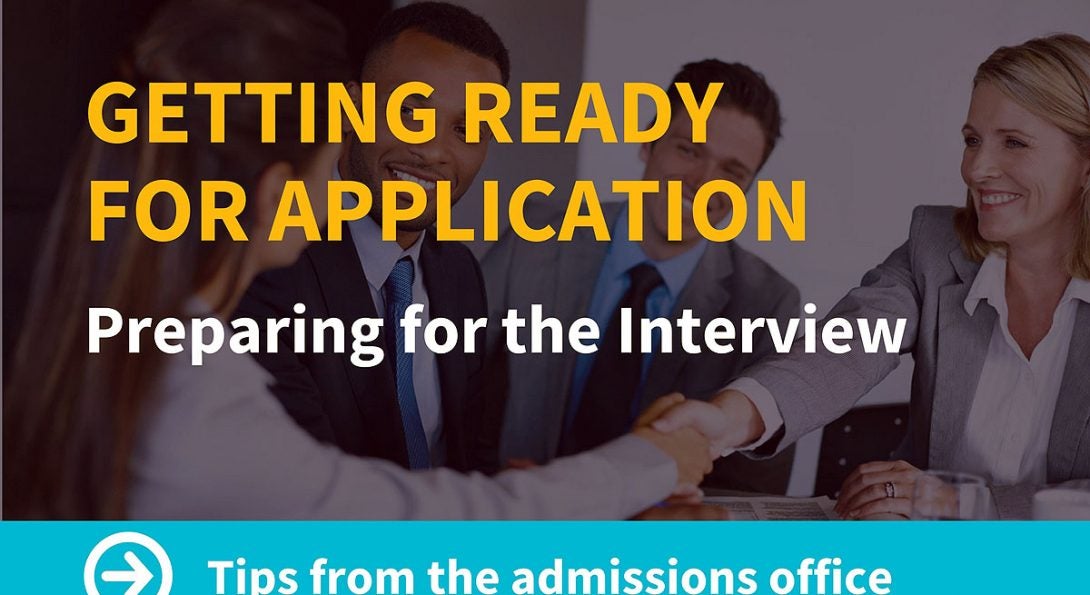 You have just finished submitting your AADSAS and supplemental applications. You are feeling great!
Now it's time to get ready for the next step in the application process: the interview.
Most dental schools – including UIC – use a personal interview with selected applicants to assess qualities such as self-confidence, interpersonal skills and your level of passion and knowledge about the field of dentistry.
It can be a nerve-racking experience for many dental school candidates. However, the interview is also a terrific opportunity for you to show them what you've got! It's you're time to shine, and to ask questions that will help you better prepare and choose the best dental school for you.
With good preparation you will feel confident going into your dental school interview. And, you'll likely learn a lot more about the school (s) you're applying to.
Here are some tips specific to UIC College of Dentistry's interview process to help you be successful.
Admissions Interviews at UIC College of Dentistry
The application only gives us a limited glimpse of who you are. Interviews are an important part of our application process because it gives our reviewers a much deeper understanding of your personal qualities, in addition to academic achievement.  
The UIC College of Dentistry interviews students from September to February. UIC has an entering class of 70 students and preference is given to Illinois residents. The admissions committee conducts a closed file interview.  This means that the admissions committee members interviewing you have not reviewed your application. It is a conversational, in-person interview with one or two interviewers.  
The half day dental school (DMD) interview visit at UIC consists of:
Welcome
One-on-one interview with 1-2 faculty members for 20 minutes (closed file) 
Informal student panel;
College tour
Students Services/financial aid presentation
Wrap up /  Q&A session.
What is UIC Looking for During Interviews?
Communication and interpersonal skills
Being a dentist requires that you have effective communication skills to build rapport with your patients. UIC's curriculum reinforces those important interpersonal and teamwork skills. Having superb communication skills will allow you to best contribute in group discussions. We also want to know how you will interact with your classmates, faculty, staff and future patients.
Critical thinking and problem solving
The DMD curriculum at UIC is highly integrated and collaborative, and covers a wide range of topics that bring together several key aspects of scientific and medical knowledge. And, our diverse community of students and faculty bring a broad range of viewpoints to discussing cases in our innovative small group learning (SGL) model. This approach demands a high degree of critical thinking and problem solving skills to effectively analyze each patient-centered case, synthesize individual viewpoints, and apply evidence-based knowledge to produce the best outcomes.
Passion and knowledge
The field of dentistry - as part of an integrated model of health care delivery - is ever changing to meet the needs of today's patient.  We want to know that you have researched the field and that you are passionate about being a future oral health provider.
What makes you, you
We also want to hear about your leadership/extracurricular activities, and get a better idea of your interests and what makes you unique. We are always looking for leaders to be the next president of student organizations here at the College. We want students that will add to the diversity of the class in their experiences and contributions.
How to Prepare for the Dental School Interview
Here are some tips specific to UIC College of Dentistry's interview process to help you be successful.
Know the program. Visit the school's website and social media pages to learn more about the dental school program you are applying to, as well as the overall institution. This is also a great way to get a sense of the college's culture.
Be prepared for the interview type. UIC has a conversational in-person interview with one or two interviewers; other schools may do a panel interview, a multiple mini interview, open file or skype interviews.
Mock interviews. Some students find that doing a mock interview is a great way to prepare. During a mock interview, you can practice body language, note taking, and timing of your responses, and then get immediate feedback. Inquire with your school's career services office to see if they offer this as a service. It is also recommended that you wear your suit to the mock interview.
Be yourself. It is crucial that you practice; just do not memorize your answers. There is a difference between being prepared for the interview and providing rehearsed answers. Answer the questions honestly and to the best of your ability.  Interviewers say that students commonly provide better answers by just being conversational.
Be honest about your weaknesses. This shows your interviewers that you have great self-assessment skills and that you know exactly what you can improve to be a better student. We are human beings and no one is perfect. We know we all have strengths and weaknesses, and application reviewers want to know how well you know yourself. Being honest reflects integrity and maturity.
Be reflective. The interviewers want to hear specific examples and reflections of your experiences. Describe what you learned from past experiences, good and bad. Rather than just name activities you've been involved in, highlight how they shaped you as an individual and a future oral health provider.
Be enthusiastic and positive. When you project enthusiasm with a positive outlook on things, it leaves a strong impression. Interviewers get excited when they meet a student that is as passionate about dentistry as they are, and can confidently address questions.
Answer questions completely and accurately.  Stay focused, and answer the question to the best of your ability. Sometimes, writing down the question helps to formalize a better response. If you don't know something just indicate that you don't know the answer.
Bring your own questions. During the interview you will have the opportunity to ask your own questions. This is the time to ask insightful questions about the program, and learn about specifics that aren't in the program literature or website.
Plan to arrive early. Admissions staff have carefully prepared all the details for your interview day.  Being late to the interview shows a lack of preparation and lack of respect for other's time. The Chicago morning rush hour is unpredictable and getting to the College can take longer than you expect. Always allow plenty of time for unforeseen circumstances that may delay your arrival. Even if you arrive early, you'll have time to further prepare before your interview time.
---
Prepare for application to dental school.
Begin your journey into an outstanding career in dentistry today!
Extracting Wisdom
LISTEN: Episode 7: Senioritis and Interviews!
Extracting Wisdom is a podcast by UIC dental student, Brandon Evert. Discover what life is like as a pre-dental student and learn Brandon's proven strategies for successful dental school admission. Follow him throughout his dental school years as he documents the journey towards his dream career in dentistry.