Global Impact: Dean Stanford Builds Partnerships with Chinese Dental Schools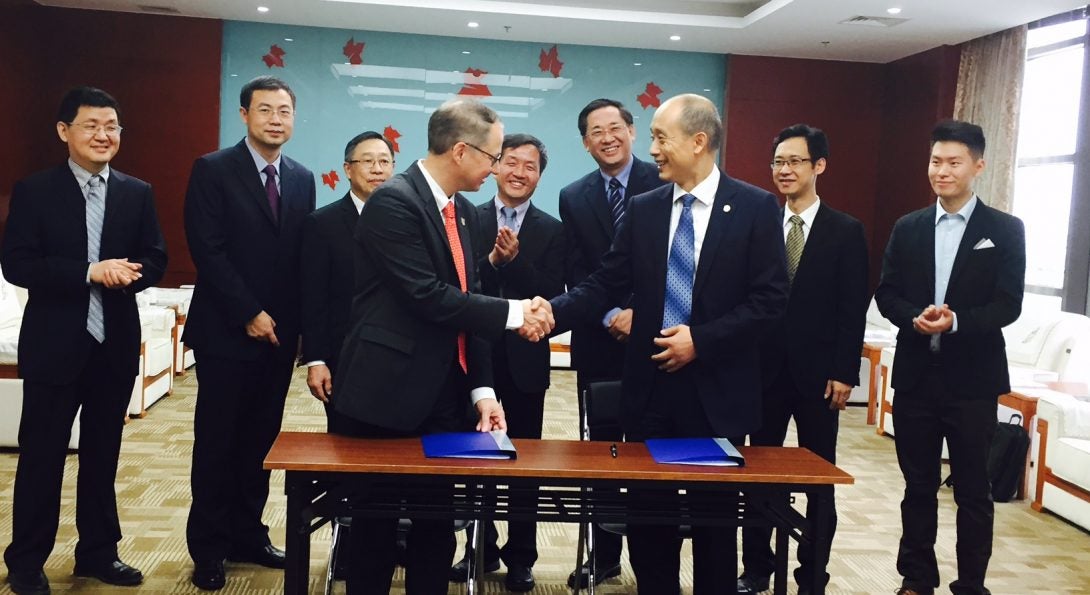 Dean Stanford recently spent several weeks in China lecturing in and building partnerships with dental schools in five Chinese cities.
The University of Illinois at Chicago is an international university. One of its selling points is that it provides a "world-class education in a world-class city." It has an Office of International Services, an Office of International Affairs, and Centers for Global Health in our College of Medicine and School of Public Health.
Global health plays an increasing crucial role in global food security and general security. The University prides itself on training the next generation of global health leaders, conducting collaborative, trans-disciplinary research that addresses critical global health threats; and by building the capacity of the University and its global health partners to respond to the complex health issues that challenge all. The College of Dentistry is doing its part through several global outreach initiatives, and is committed to doing so at the highest level. That is why the College's Dean, Dr. Clark Stanford, in October spent several weeks in China lecturing in and building partnerships with dental schools in five Chinese cities.
Invitation to Diplomacy
The trip came about because Dr. T. Peter Tsay, Professor of Orthodontics, also has an appointment at the School of Stomatology at Nanjing Medical University (NMU) in Nanjing, China. Dr. Christine Wu, Professor, Pediatric Dentistry, helped to organize the trip to Sun Yat-Sen University in Guangzhou, China. "I approached Dean Stanford with the idea of establishing a faculty/ student exchange program and scholarly and research collaborations with NMU, and he readily agreed," Dr. Tsay explained. "I then contacted the Vice President of Academic Affairs at NMU, Dr. Lin Wang, who also is a UIC College of Dentistry alumnus, a post-doctorate Fellow, 1996-98." "They wanted to understand more about UIC and the potential for partnership," Dr. Stanford said. "Once I agreed, word spread to other dental schools, and I ended up speaking in schools in five cities"—the most prestigious five out of the approximately 200 dental schools in China.
Dr. Stanford's trip was at no cost to UIC, with the Chinese universities paying the Dean's travel costs. Dr. Stanford said, "I worked my tail off giving all-day talks wherever I went." He also kept up with his UIC work. "In today's world you are interconnected," Dr. Stanford explained. "If you're jetlagged you wake up in the middle of the night anyway, and that's basically the middle of the day in Chicago so I could check my phone and check my email." The globally focused Dr. Stanford, back when he interviewed for the deanship in 2014, said one of his goals for the College was to expand its global presence and global brand.
"When you do that, you get the best potential postgraduate students to come to our programs—often with their government or their university supporting it," he said. "I'm an ambassador for UIC, and that ambassadorship is important for them to build trust, so if they send their students to UIC for a rotation or a PhD program they know they can trust us," Dr. Stanford said. "In Chinese culture, seeing your face and knowing who you're talking to is important. They need to know they can trust you, and the only way to build that trust is to meet them."
Potential for Research Collaboration
Another advantage of building the College's global outreach is research collaborations. "In China, they have all of the facilities, equipment, and materials that any Western dental school would have, and they have the money they need for research, but what they really want is Western collaborators to help their research expand and get published in journals in English," Dr. Stanford explained.  "The cultural exchange is important, too," he added. "We're planning short-term and long-term exchanges of faculty so they can see how we do things here in our educational system. They are a hybrid between the British model—you finish high school and enter dental school for an intense seven-year education period—and the American model: they teach what we teach and their approach to education is similar to ours."
Dr. Stanford noted he is not looking for students for the DMD program. "We are here for the State of Illinois and we primarily accept Illinois residents," he said. While he expects the College will have some excellent applicants from China for postgraduate program because of the College's global outreach, "I'm more interested in faculty development, faculty exchanges, understanding what works for them and what works for us and how we can learn from each other," he said.
"Once you get to know someone and understand how they think, you don't have the anxieties or animosities that can occur when you don't reach across the fence," Dr. Stanford said. "What I'm trying to do is reach across that fence, and the Chinese are very eager to, given the shakiness of the geopolitical situation in the world. We need to continue to do that."
Chinese Dentistry and Dental Schools Dr. Stanford learned that dentistry in China has undergone a revolution in the last decade. "They've gone from approximately all of the dentists located in a city dental hospital, which they call a hospital of stomatology, to where about half of the practitioners are in what we consider a fee-for-service practice, a completely different model for them," Dr. Stanford said. "So the education model is shifting too from one that is completely hospital-based to one where they are educating general dentists to go into a more private practice setting. "That fee-for-service private practice model surprised me," he continued. "Insurance is almost unknown there,  government pay for dental care is essentially non-existent, and credit-card use is not common, so people pay out of pocket in cash."
At Nanjing Medical University, Dr. Stanford and NMU officials signed an agreement that will result in exchanges of faculty members, students, and academic materials, and joint research and educational activities. Dr. Stanford and Dr. Tsay also gave a daylong seminar, with Dr. Stanford speaking on dental implants and Dr. Tsay speaking on facial esthetics. The President of NMU, Dr. Hongbing Shen, also added Dr. Stanford to the school's faculty as a Visiting Professor. "The hospitality extended to us while we were there was outstanding," Dr. Tsay noted. "We also visited some interesting and historical sites in Nanjing City."
Dr. Stanford also lectured at dental schools in Guangzhou, Shenzhen, Xian, and Shanghai. "I gave talks to the dental students, and to the local alumni and faculty, at each of these universities," he said. The College has had an exchange program with the Guanghua School of Stomatology at Sun Yat-Sen University in Guangzhou since 2012. Dr. Christine Wu, Professor, Pediatric Dentistry, was instrumental in facilitating this collaborative relationship. "Since then, more than a dozen of our D-4 students have visited Guanghua in a program the spring before graduation," she said.
Dean Cheng Bin invited Dr. Stanford to present lectures in implantology and to perform implant placements at Guanghua. Dr. Wu accompanied him, and noted that she "served as an interpreter to facilitate smooth flowing of communications and activities." In treating patients, "I would look at the material in the syringe and think it might be an impression material, but I didn't really know until I started using it," he said. "There was a lot of that where things were just a little different."
Life in China
Like any traveler, Dr. Stanford was fascinated with the differences from home in the land he was visiting. "All of the cities are big—really, big," Dr. Stanford observed. "A small city in China has nine million people; Shanghai has 25 million. It took me a while as a Westerner to get used to so many people around me on the street, although I always felt safe. The Chinese, however, feel when they come to the U.S., that there are not enough people around. In Nanjing there were fewer foreigners than in the other cities, so it took me a while to get used to being stared at because I was often the only non-Asian on the street."
Many people use electric scooters for transportation, instead of the old two-cycle gasoline scooters that caused so much pollution. "The electric scooters are silent, so they'll come right up to you and you might not notice it until you're in danger of being run over," Dr. Stanford said. "Traffic on the street seems unorganized, but because it's dense it doesn't move that fast, so there's a constant waltz going on among pedestrians and vehicles," he explained. "There are few accidents, but many near misses." Also many Buicks. "The founding father of modern China, Dr. Sun Yat- Sen, owned a Buick," Dr. Stanford said. "I saw it in a museum. So the people have an affinity for Buicks."
He noted that many of the students at his lectures had familiarity with English, particularly reading it. "They struggle a little with American 'English,' though, so sometimes I had a translator," Dr. Stanford said. Food, Dr. Stanford learned, is very important to the Chinese. "They want to make sure you are well taken-care of at every meal," he explained. "Like your mother, if they didn't believe you were eating enough, they would put more on your plate." Some little differences surprised Dr. Stanford. "I haven't seen a removable pop top on a can in 40 years, but they have them there," he noted. "In every elevator in every hotel, they would have a rug on the floor that gave you the day of the week." Many TV series would have a military angle. "Even the soap operas are military," Dr. Stanford noted. "A number of the TV shows were set in World War II and the Nationalist Party era, which ended in 1949. The year of the Communist revolution, 1949, is like 1776 for us.
"The Chinese are fascinated by the Nationalist era, and historic sites like the home of Chiang Kai-shek and his Presidential Palace are highly visited by the Chinese, and these sites are well kept up," he said. With a huge land mass and the largest population of any country on earth, "when the Chinese put their mind to it, they really can put resources into a project," Dr. Stanford said. "I visited the National Reproductive Research Laboratories in Nanjing. They have tissue samples from newborns, mothers, and fathers all computerized. If an investigator wants to ask a specific question about the environment, toxicity, or whatever, they have all the data samples at their fingertips."
Externships Provide Cultural Exchange
Dr. Wu, Dr. Stanford, and Dr. Susan Rowan, Associate Dean for Clinical Affairs, currently are "organizing a fourweek externship program to accommodate four Guanghua dental students in coming to the UIC College of Dentistry," Dr. Wu noted. "They will not see patients; this is really more of a cultural exchange to understand oral health issues from different perspectives," Dr. Stanford explained. "We have some collaborations with other Chinese dental schools as well, so my intention is to go back next year and build on that partnership, on our recognition, on our global brand, to increase the numbers of people wanting to work with us, our research collaborations, our faculty development," he noted. "Never underestimate the value of brand recognition and people knowing you," Dr. Stanford said. "You never know when it's going to pay back in an indirect or direct benefit that you never anticipated. "It's the old story of bridges," Dr. Stanford concluded. "You never want to burn a bridge, because some day you may need to cross it."