Eat Fruits and Veggies For A Healthy Smile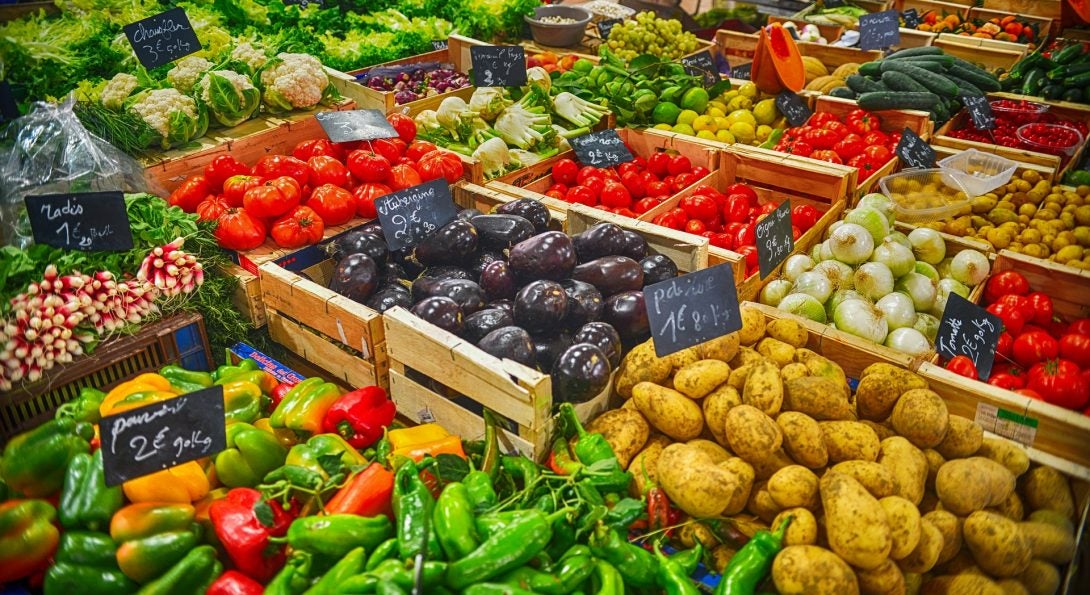 Get ready for good dental health this Summer!
Healthy prevention is the best medicine for your smile and dental health is more important than you may realize for overall health. What you eat plays a big role in this. The foods you choose, when and how often you eat them not only affect your general health, but also the health of your teeth and gums. The good news is tooth decay is entirely preventable with good dental hygiene, regular dental visits – and a healthy diet.
Did you know? 
9 out of 10 people have experienced tooth decay (cavities), and tooth decay remains the most common chronic childhood disease. People who lack access to affordable care have significantly higher rates of oral disease. This is why UIC is 'Changing the Future of Oral Health.'
Fresh fruits and veggies help keep teeth healthy
Some of the best foods for healthy teeth are fresh fruits and veggies because of their nutritional and mouth health benefits. For example, crisp fruits and raw vegetables, like apples, carrots and celery, help clean plaque from teeth and freshen breath. Many fruits and vegetable contain lots of antioxidant vitamins, such as vitamin C, that help protect gums and other tissues from cell damage and bacterial infection. Leafy salad greens contain lots of folic acid, a member of the B vitamin family, which promotes a healthy mouth and supports cell growth throughout the entire body.
For healthy teeth and gums this summer, look for these fruits and veggies in your local grocery or farmers market.
Apples and Citrus Fruit
An "apple a day" is also great for teeth too. Although not a substitute for brushing and flossing, eating an apple or other fibrus fruits like oranges, carrots or celery can help clean your teeth and increases salivation, which can neutralize the citric and malic acids left behind in your mouth. And while sugary apple juice may contribute to tooth decay, fresh apples are less likely to cause problems. This is because chewing the fibrous texture of apples stimulates your gums, further reducing cavity-causing bacteria and increasing saliva flow. And more saliva is good, because it decreases acidity in your mouth and washes away particles of food that lead to decay.
Be sure your diet includes citrus and other fresh fruits rich in vitamin C, such as apples, pears, strawberries, pineapples, tomatoes and cucumbers -- all rich in vitamin C.
Carrots, Celery and Root Vegetables
Strong, healthy gums are important to maintaining healthy teeth. And like apples and oranges, chewing raw carrots, celery and other fibrous and hard vegetables stimulates the gums and help to generate mouth cleansing saliva. Carrots and celery are also good sources of beta carotene, which your body needs to create vitamin A -- a nutrient essential for building strong teeth.
Leafy Green and Cruciferous Vegetables
Leafy green and dark, multi-colored vegetables such as lettuce and kale, spinach, asparagus, cabbage, chard and other greens are packed with a variety of vitamins and minerals necessary to maintain and improve oral health. Nutrients found in these dark green foods include vitamin A, vitamin C, beta carotene, phosphorus, calcium and magnesium. Phosphorus is stored in your teeth and bones to help your body balance and absorb calcium and magnesium.
Berries
Cranberries, blueberries, raspberries and other plant foods rich in anthocyanins may prevent the attachment and colonization of pathogens on host tissues (including teeth). Compounds found in cranberries for instance have been found to disrupt the enzymes associated with the bacteria forming process that leads to plaque and tooth decay. 
Functional Foods for Good Dental Health
Research has shown that a healthy diet that contains so-called 'functional foods' can benefit our oral and general health. "Foods that have biological functions in addition to their general nutritional value can be considered functional foods,  says Dr. Christine Wu, Professor, Pediatric Dentistry at UIC. "At UIC, we're studying functional foods such as milk, tea, and cranberries to better understand the biological processes that explain why these foods benefit oral health, and how we can get the most from them."
Here's how to get the most out of functional foods for good oral health.
Timing is Important
A diet that promotes good oral health is not just about the foods you eat or avoid — when and how you eat them is equally important. One way to protect your teeth is by eating raw foods at the end of meals. Such foods help clean teeth and massage gums, and generate more saliva to wash away extra food particles left after a meal.
According to Dr. Wu, "Food sequencing, or the order in which you consume food and beverages, is important and may help to prevent tooth decay. Try eating acid neutralizing foods after a sweet meal or desert will prevent prolonged acid attacks to your teeth and therefore help prevent cavities. The best examples are milk, unsweetened tea or cheese." 
Also, be sure to drink plenty of water during and after meals to help wash away sugars and acids left from snacks and meals -  especially in these hot summer months!
Try a More Healthy Snack
Instead of snacking on sugary, carbohydrate-rich or acidic foods throughout the day, eat these foods just during meal times in order to minimize the amount of time teeth are exposed to acid. In addition, the body produces more saliva to help digest larger meals, which washes away more food and helps neutralize harmful acids before they can attack teeth. Try to eat some raw veggies as a daily snack after a larger meal to help clean your teeth. Eating an apple as dessert after lunch will help to remove material that has adhered to the surface of your teeth. Plus, apples contain naturally occurring xylitol.
  Video: Functional Foods Research at UIC
  Video: Drinking Water for Good Oral Health