Dr. Nisha Garg Receives Community Dentistry Award from AAPHD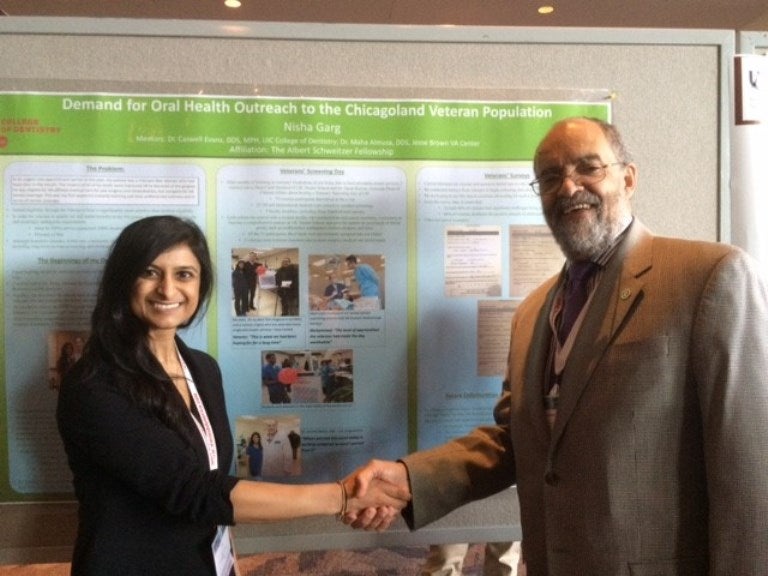 Nisha Garg, DMD, who graduated from the University of Illinois at Chicago College of Dentistry on May 7, has been named the recipient of the Predoctoral Dental Student Merit Award for Outstanding Achievement in Community Dentistry by the American Association of Public Health Dentistry (AAPHD).
"I won this award because of my Schweitzer Fellowship Veteran Outreach project," Dr. Garg explained, noting that the project had several facets. "For example, I conducted monthly oral health seminars at the Jesse Brown Veterans Administration Center for veterans who are ineligible for VA-affiliated dental care."
Dr. Garg also led the initiative to hold a Veterans' Screening Day at the College, "for veterans who have been searching for a dental clinic to turn to."
Khatijia Noorullah, Clinical Community Academic Manager, informed Dr. Garg about the competition.
"I immediately became interested in applying, mainly due to the prospect of being able to present my experiences of working with veterans to a population larger than that of the UIC College of Dentistry," Dr. Garg explained.
The application process was an extensive one, and Dr. Garg collaborated on it with Noorullah; Dr. Caswell Evans, Associate Dean for Prevention and Public Health Sciences; and Dr. Darien Witherspoon, Assistant Professor, Pediatric Dentistry, Division of Prevention and Public Health Sciences.
"After all that hard work, I am so excited and honored to have won first place," Dr. Garg said.
She traveled to Cincinnati, OH, for an award ceremony during the National Oral Health Conference on April 17, and presented a poster about the project on April 18.
The honor includes $500 for her first place finish and another $100 for travel expenses and membership in the AAPHD.
"We have had previous students who have received recognition by the AAPHD, but this is the College's first first-place honoree," Dr. Evans said.
"Several years ago, this College established the inaugural student chapter of AAPHD; it has served as a model for the 25 or so chapters that developed in other schools of dentistry subsequently," he noted.
Dr. Garg also participated in the Chicago Area Schweitzer Fellows Program Annual Celebration of Service at Northwestern University on April 12.
"The Schweitzer Fellowship was the initial reason why I chose to pursue a year-long community service outreach project with the veteran population," Dr. Garg explained. "We were very thrilled this year because Dean Clark Stanford was the keynote speaker for the event."
Dr. Evans and Dr. Witherspoon also presented posters at the event.
Following remarks by Dr. Stanford and other speakers, Dr. Garg and 29 other Schweitzer Fellows each gave a short summary about their project.