Dr. Michael Miloro Performs Microneurosurgery on University of Illinois Hospital and Health Sciences System Nurse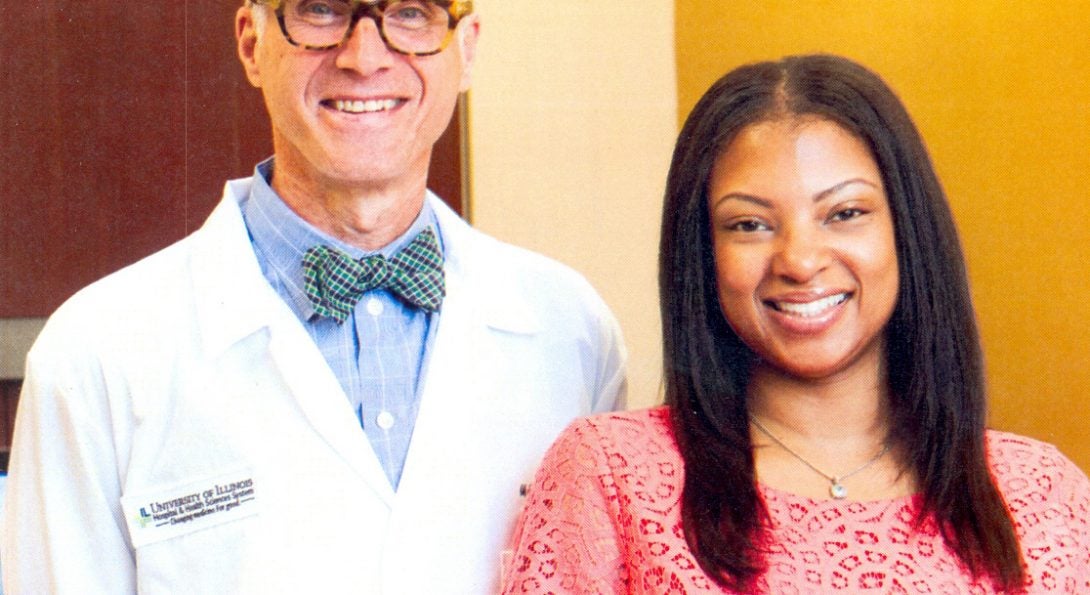 In late 2016, Tanya McCarter, an administrative nurse in the Center for Women's Health at the University of Illinois Hospital(UI Health), had her wisdom teeth removed - a typically straight-forward oral procedure with few side effects other than some pain and swelling. Typically.
But the next day, something was not right. "I had complete and total loss of feeling on the right side of my tongue," McCarter said.
The numbness continued for two days before she obtained a diagnosis: paresthesia, a tingling or numbness caused when a nerve is damaged during an oral surgery procedure. When McCarter's wisdom teeth were being extracted, her right lingual nerve - part of the trigeminal nerve system, which is responsible for sensation in the face - was damaged.
The oral surgeon at her dental practice recommended she see Dr. Michael Miloro, professor and head of oral and maxillofacial surgery at the University of Illinois at Chicago College of Dentistry, about treatment to repair the nerve.
Miloro is an internationally recognized expert in trigeminal nerve repair; in fact, he is the author of the only textbook published on the diagnosis and management of this type of injury, "Trigeminal Nerve Injuries."
The referring surgeon did not know that McCarter was a nurse at UI Health - or, that she already had researched Miloro on her own.
"Because I'm a healthcare provider, I'm focused on giving - and receiving - the best care," McCarter said. "When I started researching nerve repair specialists, I found Dr. Miloro. And because he was at UI Health, I knew he would take great care of me."
Around a month after her procedure, McCarter had her initial consult with Miloro, and later, he performed a repair of the right lingual nerve using a nerve allograft.
"The success of microneurosurgery is extremely time-dependent," said Miloro. "Tanya was referred for care in the appropriate time frame. We are hopeful that Tanya will make a full recovery and be able to feel her tongue and taste foods normally again."
Noting that he often sees individuals from all over the country, Miloro joked that McCarter probably had the shortest travel time of all his nerve-injured patients. "It was a privilege to treat one of our own UI Health nurses," he said.
"The care I received at UI Health was unbelievable," McCarter said. "I did not tell anyone I was an employee here, and I was provided an exceptional patient experience."
Photo caption: Dr. Michael Miloro with UI Health nurse Tanya McCarter.