Dr. Angelo Arce Garners Punwani Award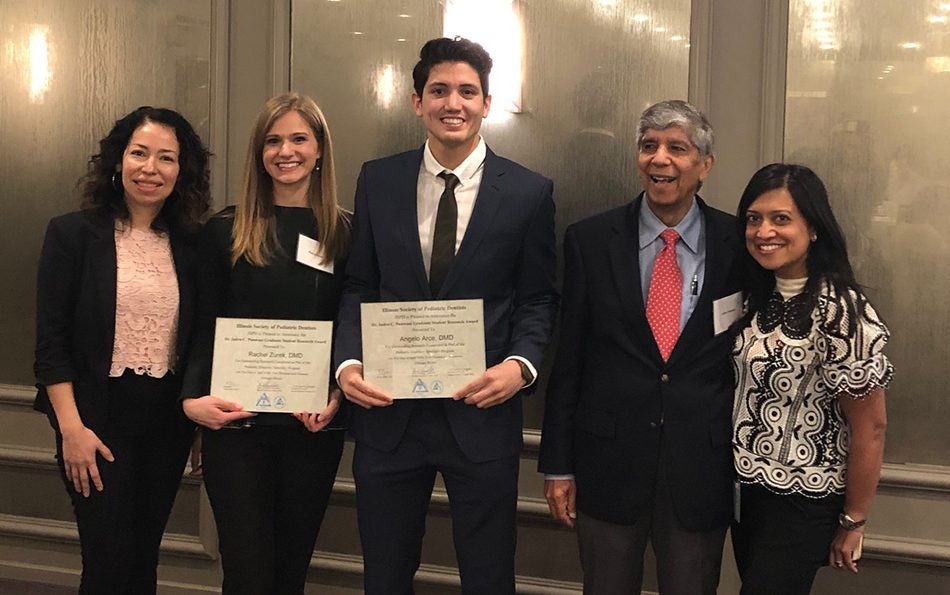 Dr. Angelo Arce, Pediatric Dentistry Resident, has earned the Dr. Indru Punwani Graduate Student Research Award (GRSA) from the Illinois Society of Pediatric Dentists (ISPD).
The award, named for Dr. Punwani, Professor Emeritus of Pediatric Dentistry, is granted for excellence in dental research. Dr. Arce received a certificate and $500 prize to help defray his costs to attend a dental meeting to present his research.
Dr. Arce's research is "Effectiveness of Articaine Local Infiltration vs. Lidocaine Inferior Alveolar Nerve Block for Treatment of First Permanent Molars in Pediatric Patients."
"My research is comparing a local infiltration with articaine to an inferior alveolar nerve block (IANB) with lidocaine for restoration of mandibular first permanent molars in children," Dr. Arce explained.
"It is no secret that kids do not like receiving IANB," he continued. "My research was looking for a different type of anesthesia that works as well as IANB, but was more comfortable with administration. We found that an articaine local infiltration was as effective as a lidocaine IANB. More importantly, we found that articaine local infiltration was associated with less pain on administration."   
Applicants for the award submit a research abstract along with a personal statement about how the research process has enhanced the dental resident's development as a pediatric dentist.
"I don't enjoy seeing children who are terrified of the dentist," Dr. Arce said. "It means a lot to me that I can contribute to research towards making the dentist a less scary experience."
Dr. Rachel Zurek from Lurie Children's Hospital also was presented with a Punwani Award.
Dr. Maribel Reyes de Lobos, ISPD GRSA Committee Chair, said, "It is a great satisfaction to see how our young colleagues contribute to the advancement of research in our field of dentistry. We hope this award encourages future research and highlights the importance of continuing education in pediatric dentistry."
Photo Caption: Dr. Angelo Arce (center), and Dr. Rachel Zurek (second from left), the Dr. Indru C. Punwani Graduate Student Research Award (GSRA) winners. Also pictured are Dr. Maribel Reyes de Lobos, Illinois Society of Pediatric Dentists GRSA Committee Chair, and Dr. Reena Shah, President of ISPD.