April is Oral Cancer Awareness Month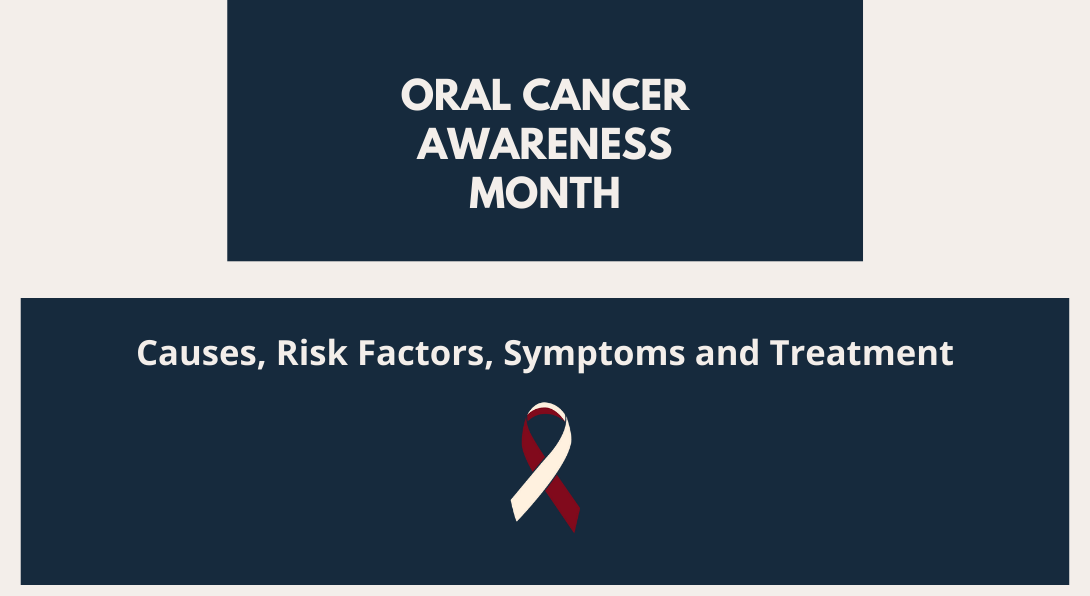 April is oral cancer awareness month. Early detection of oral cancer greatly increases long term survival and emphasizes the significance of routine oral cancer screening (once every three years in adults over the age of 20 and yearly in adults over 40). Every dental appointment is an opportunity to be screened.
According to the American Cancer Society, there will be about 54,000 new cases and 11,230 deaths in 2022 due to oral cavity and oropharyngeal cancer. Head and neck cancer is the sixth most common cancer worldwide.
Some populations are at greater risk than others. In Chicago, residents from Southside communities are at higher risk and die from oral cancer at a higher rate than others. This is especially true for males living in these communities. For these reasons it is especially important these residents have an oral cancer screening.
Before a scheduled screening, make sure any dentures or dental appliances have been removed. Please be aware that there are two parts of the screening – a visual exam and a physical exam.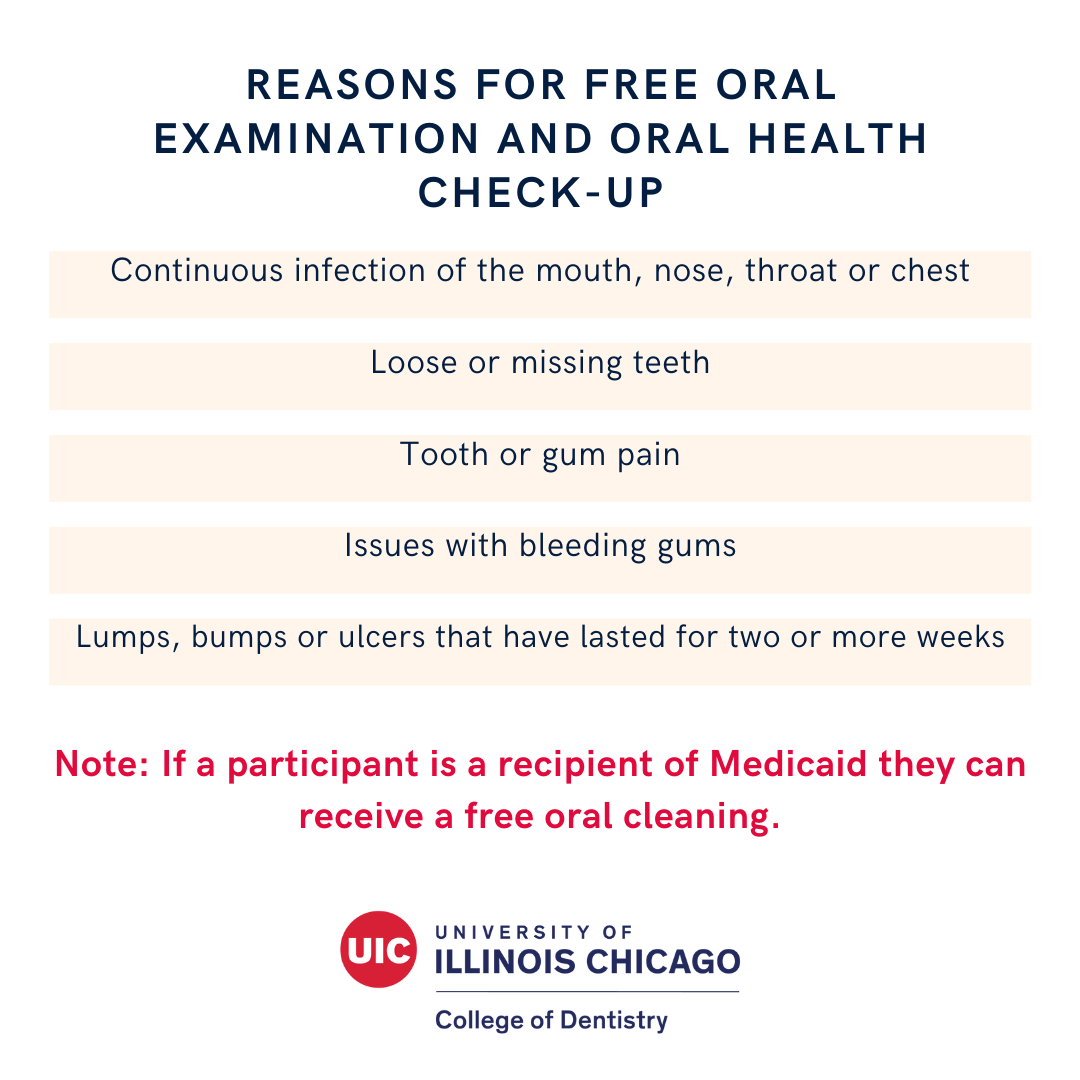 Types of Head and Neck Cancers:
Oral Cavity – tongue, gums, floor of mouth
Throat or oropharyngeal – often related to Human papillomavirus (HPV) infection
Cancer can also arise from the salivary glands, lymph nodes (lymphoma) or bone/soft tissues (sarcoma)
Possible Head and Neck Cancer Symptoms:
Lumps, bumps, ulcers, infections that do not go away for more than two weeks need to be examined
A lip or mouth sore that doesn't go away
Jaw pain or swelling
Continuous sore throat
Problems with swallowing and eating
A white or red patch on side or base of the tongue, floor of the mouth, oropharynx-tonsil area, gum or surrounding a tooth
Bleeding sores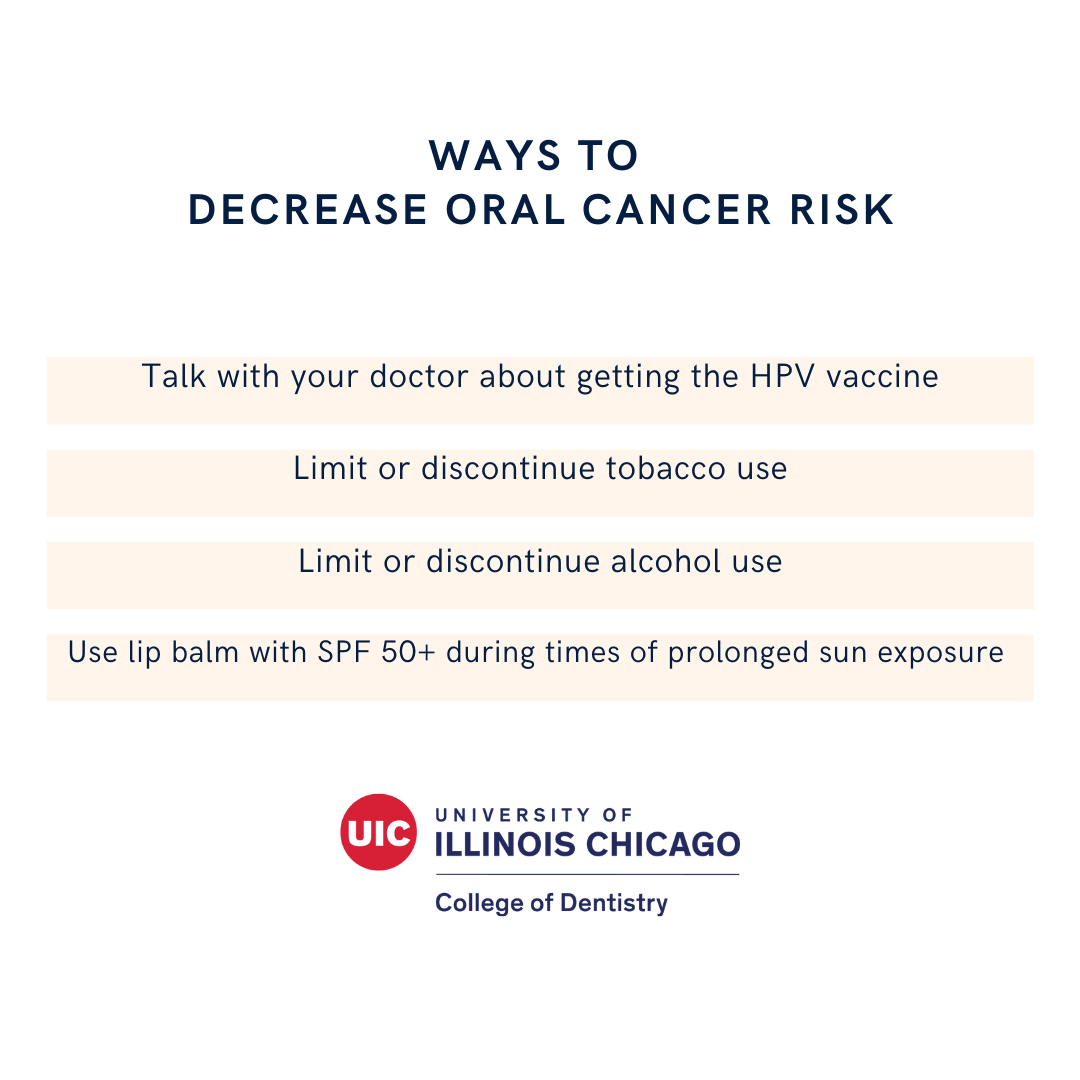 Risk Factors:
Tobacco and alcohol use (especially if used simultaneously)
Human papillomavirus (HPV) infection
Chewing betel quid (most commonly occurring in Southeast Asia and South Asia)
Being assigned male at birth
Excess body weight
Being over the age of 55
Prolonged exposure to Ultraviolent (UV) light
Poor nutrition
Overall poor oral hygiene
Treatments
Various treatments are available for head and neck cancers and are decided upon by a multi-disciplinary cancer treatment team, which includes oral and maxillofacial surgeons, oncologists, radiation oncologists, and others. Treatments may include, surgery to remove a tumor and surrounding tissue, radiation therapy, chemotherapy, immunotherapy, or some combination of the above.
Our expert faculty members, Dr. Beth Miloro, Director of Oral Medicine and Facial Pain Clinic and Clinical Assistant Professor of Oral Medicine and Diagnostic Sciences, and Dr. Joel Schwartz, Professor of Oral Maxillofacial Pathology and Oral Medicine and Diagnostic Sciences, stress the importance of regular screenings. Please visit our YouTube page to watch, Oral Medicine & Early Diagnosis to learn more.
The Oral and Maxillofacial Surgery department at UIC has a robust program to take care of patients with head and neck cancer, through diagnosis to treatment and reconstruction. Our very own Dr. Nicholas Callahan, Associate Professor of Oral and Maxillofacial Surgery has a busy clinical practice with an expertise in head and neck oncology and microvascular reconstruction. He is also a member of the UIC head and neck tumor board, cancer center member, and co-director of the head and neck cancer integrated practice unit (IPC).
If you are in the increased risk category or are experiencing any of the above symptoms, it is important that you schedule an oral cancer screening with your primary dentist as soon as possible.
The College of Dentistry offers services in comprehensive, urgent, and specialty care. If you'd like to schedule an appointment, please visit https://dentistry.uic.edu/patients/request-an-appointment/.
References:
https://jada.ada.org/article/S0002-8177(22)00025-3/fulltext?_ga=2.52330731.312061826.1649863747-2092688126.1648749868
https://moffitt.org/cancers/oral-cavity-or-throat-cancer/faqs/how-often-oral-cancer-screening/#:~:text=Early%20detection%20of%20oral%20cancer,40%20should%20have%20annual%20screenings.
https://www.cancer.org/cancer/oral-cavity-and-oropharyngeal-cancer/causes-risks-prevention/risk-factors.html
https://www.cancer.org/cancer/oral-cavity-and-oropharyngeal-cancer/about/key-statistics.html
https://www.cancer.org/cancer/oral-cavity-and-oropharyngeal-cancer/treating/targeted-therapy.html
https://www.cancer.org/cancer/oral-cavity-and-oropharyngeal-cancer/about/what-is-oral-cavity-cancer.html
https://www.cancer.org/cancer/oral-cavity-and-oropharyngeal-cancer/detection-diagnosis-staging/signs-symptoms.html
https://www.colgate.com/en-us/oral-health/cancer/oral-cancer-screening-what-to-expect
Modified on April 18, 2022