An Interview with Dr. Sarah Oswald, Pediatric Anesthesiologist and Director of Anesthesia Services for the Department of Pediatric Dentistry at UIC COD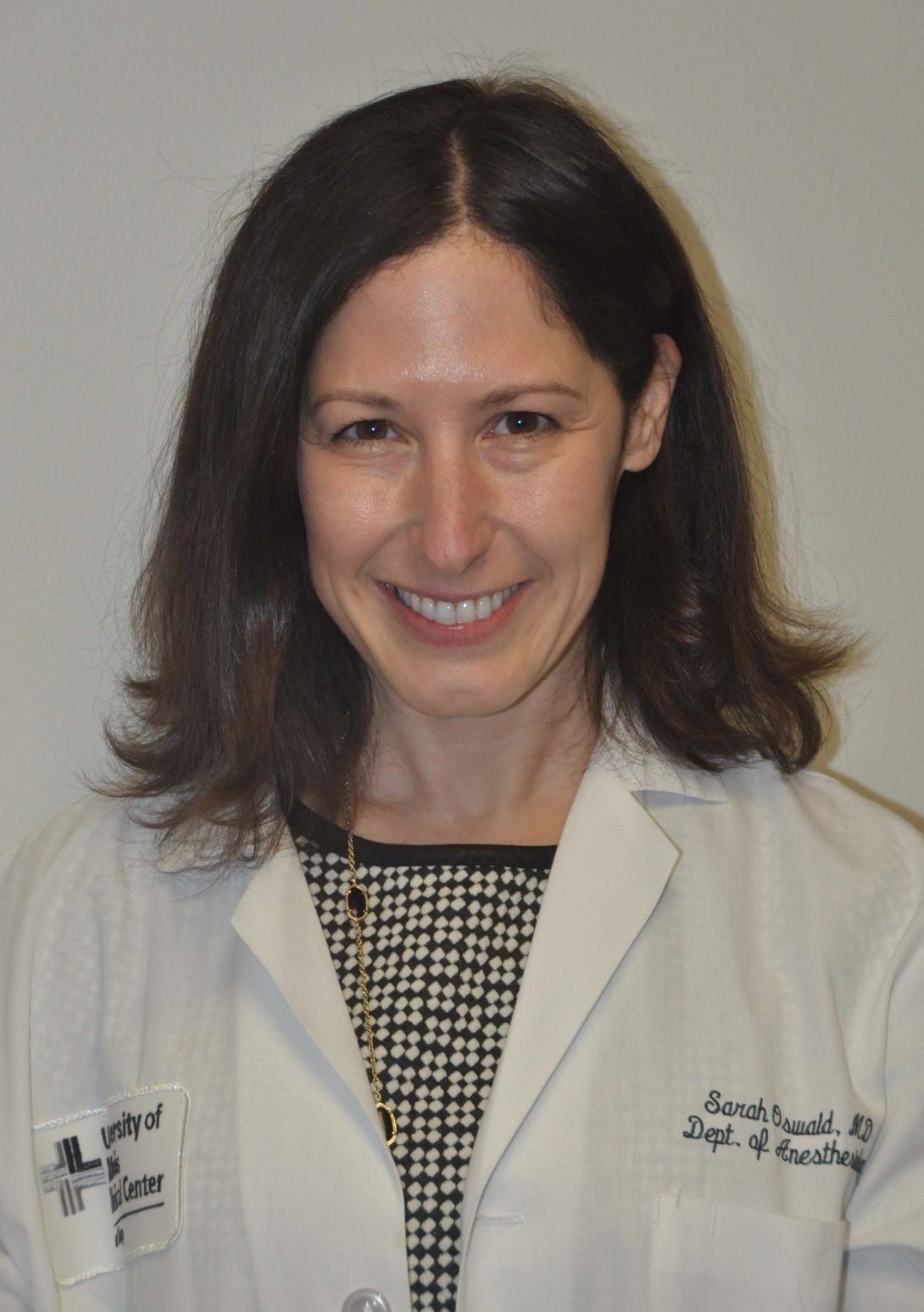 Healthy dental practices and care begin at a young age, and the individuals who work in the Department of Pediatric Dentistry at the College of Dentistry are dedicated to making oral health accessible to the community. Sarah Oswald, MD, Pediatric Anesthesiologist and Director of Anesthesia Services for the Department of Pediatric Dentistry at the UIC College of Dentistry and Associate Professor of Anesthesiology at University of Illinois Hospital/UIC College of Medicine, works to ensure patients receive the highest quality of anesthesia care. Dr. Oswald has been at the College for 18 months, displaying excellent care and dedication to children in her role at the College as Pediatric Anesthesiologist.
What do you do in your role at the College?
S: I work as a Pediatric Anesthesiologist at the Illinois Children's Healthcare Foundation Pediatric Dentistry Outpatient Care Center (ILCHF PD-OCC). I provide anesthesia care to pediatric patients who require extensive dental work, performed under general anesthesia. I also work as Director of Anesthesia Services at the ILCHF PD-OCC, helping to facilitate collaboration between the Pediatric Dentists and the Pediatric Anesthesiologists to ensure the safest and highest quality anesthesia care to our pediatric patients.
What made you want to work in Pediatric Dentistry?
S: First and foremost, I deeply value the opportunity to work with children; they surprise and inspire me every day. At ILCHF PD-OCC, in addition to taking care of children in an office based setting, I also have the privilege of working on a dedicated and talented team comprised of Pediatric Dentists, Pediatric Dental Residents, and Dental Assistants, who all strive to improve the dental well-being of children who might not otherwise have access to such excellent care.
How does your job meet your career goals and aspirations?
S: Helping create a comfortable, easy environment for patients and their parents, during what can otherwise be a stressful experience, is an extremely satisfying part of my job. It is truly gratifying to be an integral part of restoring healthy and appropriate dental care for these young children. I also enjoy interacting with other professionals in an educational setting; it brings a welcomed mix of energy, collaborative discussion, and teaching.
What is the importance of having your type of position in the Pediatric Department?
S: The partnership between the UIC Department of Anesthesiology and the UIC College of Dentistry allows children to receive the highest quality dental care in an expedited way. Children receive the dental attention they need without the restrictive, months long wait period for their case to be done in a hospital operating room.
Modified on June 08, 2022