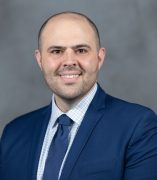 David Avenetti, DDS, MSD, MPH
Clinical Associate Professor, Post-Graduate Program Director
Pediatric Dentistry
Contact
Address:
College of Dentistry 801 S. Paulina, IL 60612
Office Phone:
Email:
About
As a full-time faculty member, Dr. Avenetti is actively involved in clinical and didactic teaching, administration, research, and service; he provides direct patient care in an extramural practice one day per week. Dr. Avenetti is actively involved in the American Academy of Pediatric Dentistry, where is also a national spokesperson.
Clinical activities & specialties
Dr. Avenetti serves as the residency Program Director. His didactic responsibilities include coordination and/or instruction in Orthodontics & Growth and Development, Pulp Therapy and Dental Materials, Advocacy, and Journal Club/Post-Graduate Seminars. He also provides lectures in the pre-doctoral curriculum, select courses in the certificate and MS curricula, and Continuing Education courses.
Dr. Avenetti's clinical responsibilities include serving as an attending in the post-graduate clinic and at the UI Hospital. In the hospital setting, Dr Avenetti supervises residents for general anesthesia cases, consults, and call. He facilitates the collaborative "Mixed Dentition Clinic" with the Department of Orthodontics.
Education
University of Southern California, Bachelor of Science in Health Promotion and Disease Prevention Studies
University of California Los Angeles, Doctor of Dental Surgery, Omicron Kappa Upsilon
University of Washington and Seattle Children's Hospital, Advanced Program in Pediatric Dentistry
University of Washington, Master of Science in Dentistry
University of Washington, Master of Public Health (Health Services) and Certificate in Maternal and Child Health
American Board of Pediatric Dentistry, Board Certified Pediatric Dentist
American Academy of Pediatric Dentistry, Fellow
Research Currently in Progress
Dr. Avenetti's research and grant activities are supported by NIDCR, HRSA, and institutional funding. Current funded research activities include:
Oral health promotion and reducing oral health disparities (NIDCR)
Leadership and professional development in pediatric dentistry (HRSA)
Outcomes of general anesthesia for oral rehabilitation
Additional interests include: access to care and oral health services, social determinants of oral health, interprofessional and dental education, and application of business principles in the dental setting, among others.