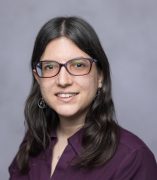 Christina Nicholas, PhD
Assistant Professor, Department of Orthodontics (UIC), Departmental Affiliate, Department of Anthropology (UIC)
Associate Director for Graduate Research
Orthodontics
Contact
Address:
UIC College of Dentistry 801 S. Paulina Street, IL 60612
Email:
About
Dr. Nicholas is joined the Department of Orthodontics, University of Illinois at Chicago (UIC), in 2016 and became an Assistant Professor in 2019. She received her PhD in Biological Anthropology from the Department of Anthropology at the University of Iowa (2015). Following the completion of her PhD studies, she spent time as a postdoctoral fellow in the Iowa Institute for Oral Health Research (formerly Dows) under the mentorship of Dr. Lina Moreno and Dr. Tom Southard. Dr. Nicholas currently serves as the Associate Director for Graduate Research in the Department of Orthodontics, helping to guide residents through the MS thesis process. Dr. Nicholas also runs the Nicholas Lab (link below) with research focused on 1) craniofacial growth and 2) childhood obesity and oral health. In addition to her research responsibilities, Dr. Nicholas is also a facilitator for small group learning (SGL) in the dental student curriculum, and course directs classes such as Craniofacial Anomalies I & II, Craniofacial Growth and Development, and Dental and Medical Anthropology within Human Evolution.
Visit Dr. Christina Nicholas's Lab for more information: https://sites.google.com/uic.edu/nicholaslab/home.
Scholarly interests
Craniofacial ontogeny, geometric morphometrics, cleft palate, dental anthropology, paleoanthropology, forensic anthropology, 3D modeling
Selected Publications
Nicholas, CL, Franciscus, RG. 2014. The Ontogeny of Nasal Floor Shape Variation in Extant Humans. American Journal of Physical Anthropology. 115: 369-378.
Holton, NE, Nicholas, CL, Marshall, SD, Franciscus, RG, Southard, TE. 2015. The effects of altered maxillary growth on patterns of mandibular rotation in a pig model. Archives of Oral Biology. 60: 933-940.
Nicholas, CL. 2016. Fetal and neo-natal maxillary ontogeny in extant humans and the utility of prenatal maxillary morphology in predicting ancestral affiliation. American Journal of Physical Anthropology. 161: 448-455.
Avila-Ortiz, G, Gubler, M, Nicholas, C, Barwacz, C. Chapter 4.7. 2017. Alveolar Ridge Preservation in 'Clinical Cases in Implant Dentistry' Eds. N. Karimbux & H.P. Weber. Wiley & Sons.
Marchi, D, Proctor, D, Huston, E, Nicholas, CL, Fischer F. 2018. Morphological correlates of the first metacarpal proximal articular surface with manipulative capabilities in apes, humans, and South African early hominins. Comptes Rendus Palevol.
Nicholas, CL, Thalji, G, Richter, A. 2018. Childhood obesity and accelerated timing of dental maturation: A review. Forensic Anthropology. 1: 170-179.
Nicholas, CL, Kedavy, K, Holton, NE, Marshall, T, Richter, A, Southard, T. 2018. Childhood body mass index is associated with early dental development and eruption in a longitudinal sample from the Iowa Growth Study. American Journal of Orthodontics and Dentofacial Orthopedics.154: 78-87.
Avila-Ortiz, G, Gubler, M, Romero-Bustillos, M, Nicholas, CL, Zimmerman, MB, Barwacz, CA. 2020. Efficacy of Alveolar Ridge Preservation: A Randomized Controlled Trial. Journal of Dental Research. 99: 402-409. https://doi.org/10.1177/0022034520905660
Haley, CM, Brown, B, Koerber, A, Nicholas, CL, Belcher, A. 2020. Comparing Case-Based with Team-Based Learning: Dental Students' Satisfaction, Level of Learning, and Resources Needed. Journal of Dental Education. https://doi.org/10.21815/JDE.019.190
Chen, Z, Atsawasuwan, P, Nicholas, CL, Thalji, G, Viana, G. In press. Evaluation of Composite Attachment Position with Four Indirect Bonding Tray Sectioning Strategies. Journal of Clinical Orthodontics
For a complete list of publications, please see: https://www.ncbi.nlm.nih.gov/myncbi/1lWTu97wywnght/bibliography/public/
Education
Postdoctoral Scholar, Iowa Institute for Oral Health Research, University of Iowa (2015-2016)
PhD, University of Iowa (2015)
Research Currently in Progress
Dr. Nicholas's research focuses on craniofacial growth and development, and she applies her interdisciplinary training to tackle questions related to growth from both anthropological and clinical perspectives. She uses geometric morphometrics to quantify complex craniofacial phenotypes, and is particularly interested in how units of the cranium covary across growth. Her work seeks to better understand variation in human craniofacial ontogeny, what factors might influence this variation, and how variation may affect treatment.