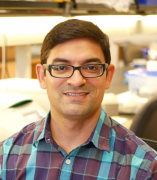 Afsar Naqvi, PhD
Associate Professor
Periodontics
Contact
Address:
801 S. Paulina St., IL 60612
Email:
Selected Publications
Recent Publications:
Ahmad I, Valverde A, Naqvi RA, Naqvi AR. Long noncoding RNAs RN7SK and GAS5 regulate macrophage polarization and innate immune responses. Front Immunol 2021; 11: 604981.
Brandini DA, Takamiya AS, Thakkar P, Schaller S, Rahat R, Naqvi AR. Covid-19 and oral diseases: Crosstalk, synergy or association? Rev Med Virol 2021; 1-15. doi: 10.1002/rmv.2226
Valverde A, Nares S, Naqvi AR. Impaired cell migration and structural defects in myeloid cells overexpressing miR-30b and miR-142-3p. Biochim Biophys Acta Gene Regul Mech 2020; 1863:194628.
Naqvi AR, Brambila MF, Martínez G, Chapa G, Nares S. Dysregulation of human miRNAs and increased prevalence of HHV miRNAs in obese periodontitis subjects. J Clin Periodontol 2019; 46: 51-61.
Naqvi AR, Shango J, Seal A, Shukla D, Nares S. Herpesviruses and microRNAs: New pathogenesis factors in oral infection and disease? Front Immunol 2018: 9:2099.
Naqvi AR, Shango J, Seal A, Shukla D, Nares S. Viral miRNAs alter host cell miRNAs profiles and modulate innate immune responses. Front Immunol 2018: 9:433.
Naqvi AR, Seal A, Shango J, Navarette MB, Martinez G, Chapa G, Hasan S, Yadavalli T, Jaishankar D, Shukla S, Nares S. Herpesvirus-encoded microRNAs detected in human gingiva alter host cell transcriptome and regulate viral infection. Biochim Biophys Acta Gene Regul Mech 2018: 1861:497-508.
Naqvi AR, Fordham JB, Nares S. miR-24, miR-30b and miR-142-3p regulate phagocytosis in myeloid inflammatory cells. J Immunol. 2015; 194: 1916-1927.
Fordham JB, Naqvi AR, Nares S. Regulation of miR-24, miR-30b and miR-142-3p during macrophage and dendritic cell differentiation potentiates innate immunity. J Leukoc Biol 2015; 98: 195-207.
Aqil M, Naqvi AR, Mallik S, Bandyopadhyay S, Maulik U, Jameel S. The HIV Nef protein modulates cellular and exosomal miRNA profiles in human monocytic cells. J Extracell Vesicles. 2014; 3:1, 23129.
Education
Postdoctoral Associate, UIC, 2015
Postdoctoral Fellow, University of Chapel Hill at North Carolina, 2013
Post-Doctoral Scientist, Virology Group, International Center for Genetic Engineering and Biotechnology, India, 2011
PhD Molecular Biology/Virology, Jamia Millia Islamia and International Center for Genetic Engineering and Biotechnology, India, 2011
MSc Biotechnology, Jamia Millia Islamia, India, 2005
Professional Memberships
American Association of Dental Research (AADR)
International Association of Dental Research (IADR)
American Association of Immunologists
American Association of Advances in Sciences
Federation of Clinical Immunology Societies
Society for Experimental Biology
Research Currently in Progress
Research in Dr. Naqvi's lab is focused on dissecting epigenetic regulation of (1) periodontal disease and (2) host-pathogen interaction. Using a combinatorial approach of biochemical, genetic and bioinformatics tools, our lab is interested in understanding immunopathogenesis of periodontal disease and the influence of herpesviruses in disease progression/severity. Our long-term goal is to identify and characterize miRNAs (human or virus-encoded) and long noncoding RNA (lncRNA) whose therapeutic potential translates into clinical application for periodontal disease. This may be in the form of targets to be modified, as biomarkers for disease with prognostic/diagnostic capabilities, or therapeutic agents capable of dynamic modification of gene expression. Knowledge derived from our research will bridge basic and clinical research disciplines.
In our lab, we harness the potential of ex vivo biopsies, in vivo murine models of periodontitis and various in vitro models of disease to delineate impairment of pathways with specific focus on innate and adaptive immune responses. In addition, our lab is examining virus-bacterial interaction in periodontal disease. We are currently studying synergy between periodontal herpesviruses and bacteria in context of periodontal disease exacerbation. Finally, we have recently initiated studies to understand immune impairment and microbiome changes influenced by novel coronavirus SARS-CoV-2.