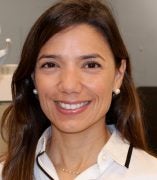 Adriana Semprum-Clavier, DDS
Director of Advanced Standing DMD Program-Pre patient care, Clinical Associate Professor
Restorative Dentistry
Contact
Address:
801 S. Paulina St., IL 60612
Email:
About
Adriana Semprum-Clavier, D.D.S. is a Clinical Associate Professor at the Department of Restorative Dentistry, College of Dentistry. Her area of expertise is early management and treatment of dental caries as well as teaching different technique courses in Operative and Restorative and Digital Dentistry. Her research at the College of Dentistry has focused on remineralization/demineralization of hard tissues on a high risk population for dental caries.
She serves as the Pre-patient Care Director for the Advanced Standing DMD Program.  Dr. Semprum current responsibilities include curriculum development, designing, implementing and evaluating students' outcomes amongst others.
She received her D.D.S degree from Universidad Central de Venezuela in 1996 and her US DDS from the University of Detroit Mercy in 2004.
Dr. Semprum completed post-graduate training in Advanced Restorative Dentistry Training from University of Michigan in 2001.
Dr. Semprum also serves as the Faculty Advisor for the Hispanic Dental Association Student Chapter.
Scholarly interests
Dr. Semprum-Clavier is currently enrolled in the Clinical and Translational Science program, focusing on Cariology prevention and Dental Erosion. Her research for her MS will focus on remineralization products for dental erosion on a high-risk population.
Education
Universidad Central de Venezuela, DDS, 1996
University of Michigan, postgraduate program in Restorative Dentistry (American DDS), 2001