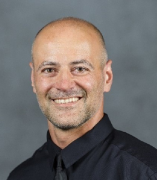 Russell Pesavento, DDS, PhD
Assistant Professor
Oral Biology
About
Dr. Pesavento has a diverse education and training background leading him to his current position at the University of Illinois at Chicago.  He has extensive experience in both inorganic and organic synthesis, therapeutic drug screening and clinical dentistry.  He received a  Ph.D. in inorganic chemistry from the University of Illinois at Urbana-Champaign, where his research focused on preparing synthetic models of the active site of clinically relevant  metalloproteins.  He then spent two years at Harvard University as a post-doctoral research associate gaining further experience in both synthetic inorganic chemistry and spectroscopic analysis of metal complexes mimicking the active site of metalloproteins of medicinal interest.  He received his clinical training as a general dentist at the University of Iowa College of Dentistry and Dental Clinics and he continues to be a practicing general dentist in Joliet, IL.   Dr. Pesavento came to UIC following his clinical training at the University of Iowa to gain experience in screening and evaluating the efficacy of small molecule and inorganic agents as potential antimicrobial agents. Following the completion of his post-doctoral training in the College of Pharmacy (Department of Medicinal Chemistry), he was appointed Visiting Clinical Assistant Professor in the Department of Oral Medicine and Diagnostic Sciences in the College of Dentistry.
Clinical activities & specialties
General Dentistry
Selected Publications
Lee, H., Ren, J., Pesavento, R.P., Ojeda, I., Rice, A.J., Live, H., Kwon, Y., Johnson, M.E. "Identification and design of novel small molecule inhibitors against MERS-CoV Papain-like protease via high-throughput screening and molecular modeling.  Bioorg.  Med. Chem. 2019, 27(10), 1981-1989.
Hevener, K.E.; Ren, J. Pesavento. R.P.; Ratia, K.; Lee, H. Johnson, M.E. "Hit-to-lead: Hit validation, assessment and improvement of drug like properties" Methods Enzymol. 2018, 610, 265-309.
International Patent Application No. PCT/US16/17124. "Substituted Cyclic Ether Polymers and Conjugates and Uses Thereof." Inventor: Pesavento, R.P. (2016)
Pesavento, R.P.; Berlinguette, C.P.; Holm, R.H.  "Stabilization of Reduced Molybdenum-Iron-Sulfur Single and Double Cubane Clusters by Cyanide Ligation" Inorg. Chem.  2007, 46(2), 510-516.
Pesavento, R.P.; Pratt, D.A.; Jeffers, J.; van der Donk, W.A.  "Model Studies of the CuB Site of Cytochrome c Oxidase Utilizing a Zinc(II) Imidazole-Phenol Cross-linked Ligand" Dalton Trans. 2006, 27, 3326-37.
Pratt D.A.; Pesavento, R.P.; van der Donk, W.A.  "Model Studies of the Histidine-Tyrosine Cross-Link in Cytochrome c Oxidase Reveal the Flexible Substituent Effect of the Imidazole Moiety" Org. Lett.  2005, 13, 2735-2738.
Hellwig, P.; Pfitzner, U.; Behr, J.; Rost, B.; Pesavento, R.P.; van der Donk, W.A.; Gennis, R.B.; Michel, H.; Ludwig, B.; Mäntele, W.; "Vibrational Modes of Tyrosines in Cytochrome c Oxidase from Paracoccus denitrificans:  FTIR and Electrochemical Studies on Tyr-D4-labeled and on Tyr280His and Tyr35Phe Mutant Enzymes" Biochemistry, 2002, 41, 9116-9125.
Pesavento, R.P.; van der Donk, W.A. "Tyrosyl radical cofactors" Adv. Protein Chem. 2001, 58, 317–385.
Education
BS, University of Evansville (Biology, Chemistry)
Argonne National Laboratory, Research Assistant (Decontamination of spent fuel radionuclides)
PhD, University of Illinois at Urbana-Champaign (Inorganic Chemistry)
Harvard University, Post-doc (Inorganic Chemistry)
DDS, University of Iowa (General Dentistry)
University of Iowa, Visiting Scientist (Organic Chemistry)
University of Illinois at Chicago, Post-doc (Medicinal Chemistry/Pharmacology)
Research Currently in Progress
The role and therapeutic effects of metal ions and inorganic agents in both clinical dentistry and oral medicine