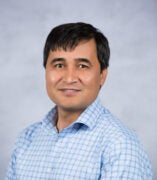 Zabihulla Ahmadi, BS, MS, DDS
Clinical Assistant Professor and Managing Partner
Restorative Dentistry
Contact
Address:
801 S. Paulina St., Chicago, IL 60612
Email:
About
Dr. Ahmadi completed his DDS program in 2014 from UIC College of Dentistry. He has been a dedicated faculty member since 2015. as a clinical faculty he has been teaching and providing hands on training to students. In 2019 he has become one of the managing partners for Group practice clinic where he oversees multiple clinical faculties, staff members, and 45-50 students in the clinic.
Dr. Ahmadi actively participate and serve in multiple college committees and serves as a co-director for various clinical courses at our institution, contributing to the development of our curriculum.
Scholarly Interests:
Oral health
Dental education
Artificial Intelligence in Dentistry
Education
University of Illinois at Chicago BS in Chemistry 2007
Illinois Institution of Technology MS In Cell and Molecular Biology 2010
University of Illinois at Chicago DDS 2014