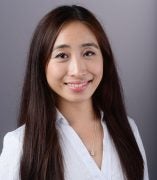 Hsuan (Rebecca) Tsuei, D.D.S.
Orthodontic Resident
Orthodontics
Contact
Building & Room:
Room 131
Address:
801 S. Paulina Street, Chicago, IL 60612
Email:
About
Dr. Rebecca Tsuei grew up in Cupertino, California, otherwise known as Apple's headquarters. She earned her Bachelor of Science at UCLA in 2015, graduating with a major in Psychobiology and a minor in English. Post-graduation, Dr. Tsuei worked in a dental office and in a research lab that collaborated with NASA to send mice to space. She then returned to UCLA for dental school, receiving her Doctor of Dental Surgery degree in 2021. While at UCLA, Dr. Tsuei served on the executive board of student government and conducted clinical research on the effect of micro-implant supported skeletal expansion on orthodontic tooth movement.
In her free time, Dr. Tsuei enjoys cooking, reading, and spending time with friends and family. Although she does not squat 400 pounds, as circulating rumors might suggest, she also enjoys lifting and trying new workout classes. Upon graduation, she plans to become ABO certified, work in private practice, and join a craniofacial team.