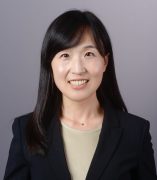 Sue Park, DDS
Endodontic Resident
Endodontics
Contact
Address:
UIC Endodontics 801 S. Paulina St., IL 60612
Email:
About
Dr. Sue Park was born and raised in Seoul, Korea. She graduated from Yonsei University College of Dentistry in 2004, and finished her postdoctoral residency training in Endodontics and Operative Dentistry and earned the Master's degree in 2008. She obtained her board certification in Korea in 2009. While attending dental school, Dr. Park was awarded 3M Scholarship in 2003 for top 3 students during clinical year, and Outstanding Clinical Achievement Award in 2004 for highest clinical aptitude and volume. Dr. Park worked as an associate endodontist in private practice for 6 years prior to starting her endodontics residency at UIC.
Dr. Park likes yoga, meditation, and spending time with family and friends, and especially loves listening to her daughters playing violin.