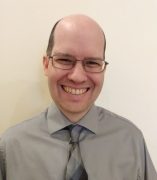 Steven Miller, PhD
Clinical Assistant Professor
Oral Medicine and Diagnostic Sciences
Contact
Address:
UIC College of Dentistry 801 S Paulina Street, IL 60612
Email:
About
Dr. Steven Miller joined the Department of Oral Medicine and Diagnostic Sciences as a Clinical Assistant Professor in June of 2020. He received his Ph.D. in biological anthropology at the University of Iowa in 2010. His graduate work focused on the evolution of crainiofacial robusticity in genus Homo. He continued his training as a postdoctoral scholar at the Iowa Institute for Oral Health Research at the University of Iowa where he conducted research focused on craniofacial abnormalities such as orofacial clefts and severe dental malocclusion. Prior to joining the faculty at UIC, he was faculty in the Department of Anatomy at Midwestern University where he taught dental gross anatomy, histology, and embryology.
Selected Publications
Zhang C, Miller SF, Roosenboom J, Wehby GL, Moreno Uribe LM, Hecht JT, Deleyiannis FWB, Christensen K, Marazita ML, Weinberg SM. Soft tissue nasal asymmetry as an indicator of orofacial cleft predisposition. Am J Med Genet A. 2018 Jun;176(6):1296-1303.
Weaver CA, Miller SF, Gomes da Fontoura CS, Wehby GL, Amendt BA, Holton N, Allareddy V, Southard TE, Moreno Uribe LM. Candidate gene analyses of 3-dimensional dentoalveolar phenotypes in subjects with malocclusion. Am J Orthod Dentofacial Orthop. 2017 Mar;151(3):539-558.
Miller SF, Vela KC, Levy SM, Southard TE, Gratton DG, Moreno Uribe LM. Patterns of morphological integration in the dental arches of individuals with malocclusion. Am J Hum Biol. 2016 Nov;28(6):879-889.
Hartman C, Holton N, Miller S, Yokley T, Marshall S, Srinivasan S, Southard T. Anat Rec (Hoboken). Nasal Septal Deviation and Facial Skeletal Asymmetries. 2016 Mar;299(3):295-306.
da Fontoura CS, Miller SF, Wehby GL, Amendt BA, Holton NE, Southard TE, Allareddy V, Moreno Uribe LM. Candidate Gene Analyses of Skeletal Variation in Malocclusion. J Dent Res. 2015 Jul;94(7):913-20.
Moreno Uribe LM, Miller SF. Genetics of the dentofacial variation in human malocclusion. Orthod Craniofac Res. 2015 Apr;18 Suppl 1:91-9.
Miller SF, Weinberg SM, Nidey NL, Defay DK, Marazita ML, Wehby GL, Moreno Uribe LM. Exploratory genotype-phenotype correlations of facial form and asymmetry in unaffected relatives of children with non-syndromic cleft lip and/or palate. J Anat. 2014 Jun;224(6):688-709.
Smith BJ, Nidey N, Miller SF, Moreno Uribe LM, Baum CL, Hamilton GS 3rd, Wehby GL, Dunnwald M. Digital imaging analysis to assess scar phenotype. Wound Repair Regen. 2014 Mar-Apr;22(2):228-38.
Miller SF, White JL, Ciochon RL. Assessing mandibular shape variation within Gigantopithecus using a geometric morphometric approach. Am J Phys Anthropol. 2008 Oct;137(2):201-12.
Education
PhD, University of Iowa, 2010
Postdoctoral Scholar, Iowa Institute for Oral Health Research, University of Iowa, 2011-2015
Assistant Professor, Department of Anatomy, Midwestern University, 2016 - 2020
Research Currently in Progress
Dr. Miller is a craniofacial morphologist who studies the impact of craniofacial abnormalities and systemic issues on the shape and development of the face. His areas of interest are orofacial clefts, severe dental malocclusion, obesity and the genetic determinants of craniofacial form.