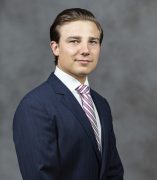 Stephen Cox, DMD
Advanced Prosthodontics Candidate
Restorative Dentistry
Contact
Address:
University of Illinois at Chicago College of Dentistry 801 S. Paulina Street, IL 60612
Email:
About
Dr. Stephen J. Cox spent his childhood growing up in Bloomfield Hills, Michigan. He moved frequently, also living in Germany, England, Texas, and Delaware. Dr. Cox  graduated from the University of Delaware studying Biology. After this, he moved to Philadelphia to pursue his DMD at Kornberg School of Dentistry - Temple University. During his time at Temple, he was an active member of the Periodontology and Oral Implantology Honors Program and the Emerging Community Student Leadership Advocacy Honors Program. Dr. Cox  graduated with honors and was awarded the American Academy of Esthetic Dentistry Award of Merit. Dr. Cox's passion for working with his hands, coupled with his interest in physics and engineering drove him towards the speciality of Prosthodontics.
In his free time he loves to cook, travel, and go on walks with his Bernese Mountain Dog.