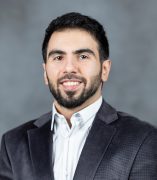 Sajjad Shirazi
MOST PhD 3 Student
Oral Biology
About
Dr. Sajjad Shirazi has graduated from dentistry in 2015. He is a talented young researcher with clinical experience and more than 40 peer-reviewed scientific papers and patents in the field of dentistry. He is currently a 3rd year PhD student in the field of bone biology and regeneration, and conducts in-vitro and in-vivo research under the supervision of Prof. Lyndon Cooper, Associate Dean for Research.
He is a topic advisory panel member for stomatology section of "Journal of Clinical Medicine", and is an editorial board member of "Journal of Clinical and Experimental Dentistry". He serves as the Assistant Editor of the "Journal of Dental Research Dental Clinics Dental Prospects (JODDD)", and as a reviewer for renowned journals.
Dr. Shirazi is 2020-2022 AADOCR National Student Research Group (NSRG) Local Representative, a designated member of Graduate Student Council (GSC), and GSC allocated student senator at UIC Senate Research Committee. He is also a student member of "Executive Committee on Advanced Education and Graduate Dental Education" at UIC College of Dentistry. In addition, he serves as a facilitator for small group learning curriculum for dental students at the college of dentistry.
Research Currently in Progress
Mentor: Dr. Lyndon Cooper