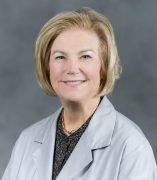 Sharon Durfee, DDS, MS
Clinical Assistant Professor
Orthodontics
Contact
Address:
College of Dentistry 801 S. Paulina Street, IL 60612
Email:
About
Dr. Durfee received her Bachelor of Science Degree and a Master of Science Degree in Physiology from The Pennsylvania State University. She earned her Doctorate of Dental Surgery Degree from The Northwestern University College of Dentistry and completed her Orthodontics Residency Degree at the University of Illinois Dental School.
Dr. Durfee is an active member in many Dental and Orthodontic Organizations and continually updates her education, to stay on the cutting edge of orthodontic technology. Additional- ly, she is an Attending Staff doctor on the  Illinois  Masonic Medical Center Medical Team. She has taught Dental Residents enrolled in a General Practice Dental Residency program for 22 years, teaching orthodontic diagnostic and treatment procedures.
Dr. Sharon Durfee has been in orthodontic practice for over 20 years. She loves to work with each individual patient, addressing his or her growth and development, and helps to direct the patient's teeth and jaw into the most ideal position possible.