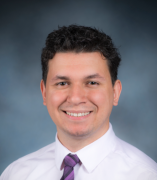 Sharif Mohammad, DDS, MSD
Clinical Assistant Professor
Restorative Dentistry
Contact
Address:
801 S. Paulina St., IL 60612
Email:
About
After earning his DDS from Poznan University of Medical Sciences in Poland, Dr. Mohammad went on to complete his GPR training in Youngstown, Ohio (The Forum Western Reserve). Later, he completed a two-year Geriatric Dentistry fellowship at UCLA. Dr. Mohammad then received his Master of Science in Dentistry (MSD) and certificate in Prosthodontics from University of Louisville.
Selected Publications
S. Schricker, A. Wee, S. Mohammad, and D. Rumsey "Maxillofacial Prosthetics Reinforced with Polyhedral Silsesquioxanes (POSS)" J. Dent. Res. 2011, 90 (Spec Iss A)
Mohammad, S, Wee , AG, Rumsey, DJ , Schricker, S  "Maxillofacial materials reinforced with various concentrations of polyhedral silsesquioxanes" J. Dent Biomech, vol. 2010, Article ID 701845, June 2010.
Education
Poznan University of Medical Sciences, DDS
The Forum Western Reserve-Health Dental Services, GPR certificate
UCLA, Geriatric Dentistry Fellowship, certificate
University of Louisville, MSD and Certificate in Prosthodontics
Licensures and Certifications
American College of Prosthodontists
American Dental Association
Research Currently in Progress
Dr. Mohammad has interests in dental implant restorations and laboratory research focusing on the clinical application of dental materials and biomaterials.