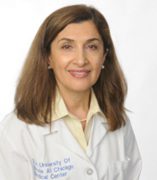 Shahrbanoo Fadavi, DDS, MS
Professor Emerita
Pediatric Dentistry
Contact
Address:
College of Dentistry 801 S. Paulina, IL 60612
Email:
Selected Publications
Hodge N, Evans CA, Simmons KE, Fadavi S, Viana G. Occlusal characteristics of individuals with growth hormone deficiency, idiopathic short stature, and Russell-Silver syndrome. Journal of Dentistry for Children. Dec 14:82(3):135-40, 2015.
Davis DM, Fadavi S, Kaste LM, Vergotine R, Rada R. Acceptance and Use of Protective Stabilization Devices by Pediatric Dentistry Diplomates in the United States. Journal of Dentistry for Children. May 15:83(2):60-6, 2016.
Patrick JR, da Fonseca MA, Kaste LM, Fadavi S, Shah N, Sroussi H. Oral Health‐related quality of life in pediatric patients with cystic fibrosis. Special Care in Dentistry. Jul 1;36(4):187-93, 2016.
Hill B, Fadavi S, LeHew CW, Rada R. Effect of Caregiver's Race and Ethnicity on Acceptance of Passive Immobilization for Their Child's Dental Treatment. J Dent Children 2019;86(1):3-9.
Education
University of Tehran, DDS
University of Illinois, Chicago, MS, Pediatric Dentistry
University of Illinois, Chicago, Specialty Certificate, Pediatric Dentistry
Professional Memberships
Diplomate, American Board of Pediatric Dentistry (ABPD), 1997 (unlimited term member)
American Board of Pediatric Dentistry, Oral Examination Committee Member, 2007-present
American Board of Pediatric Dentistry, Committee Member on Recertification and Quality Assurance, 2007-present
ADA, CODA, Consultant, Site Visitor for Pediatric Dentistry , 2006-present