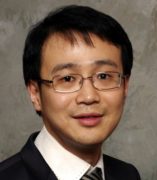 Seung Chung, DVM, PhD
Associate Professor (tenured)
Oral Biology
Contact
Address:
College of Dentistry 801 S. Paulina Street, IL 60612
Email:
Selected Publications
Chmilewsky F, About I, Chung SH* (2016) C5L2 receptor represses BDNF secretion in LTA-stimulated pulp fibroblasts. Journal of Dental Research (in press)
Chmilewsky F, Ayaz W, Appiah J, About I, Chung SH* (2016) Nerve growth factor secretion in pulp fibroblasts is modulated by complement c5a receptor and implied in neurite outgrowth. Scientific Report (Nature Publishing Group) 6:31799.
Biswas S, Jiang P, Chung SH, Dehgan S, Deng W (2016) Development of glial restricted human neural stem cells for efficient oligodendrocyte differentiation in vitro and in vivo. Stem Cell Report (under revision)
Chmilewsky F, About I, Chung SH* (2016) Pulp fibroblasts control nerve regeneration through complement activation. Journal of Dental Research 95:913-922.
Jiao X, Ashtari N, Balaei MR, Chen QM, Badbezanchi I, Shojaei S, Marzban A, Mirzaei N, Chung SH, Guan T, Li J, Vriend J, Mehr SE, Kong J, Marzban H (2016) Mevalonate cascade and neurodevelopmental and neurodegenerative diseases: future targets for therapeutic application. Current Molecular Pharmacology  Special Volume "Mevalonate Cascade" 9: issue 4.
Chen C, Chan A, Chung SH, Deng W, Jiang P (2015) Stem and progenitor cell-derived astroglia therapies for neurological diseases. Trends in Molecular Medicine (Cell Press) 21:715-729.
Chung SH*, Biswas S, Selvaraj V, Liu XB, Sohn J, Jiang P, Chen C, Chmilewsky F, Marzban H, Horiuchi M, Pleasure D, Deng W* (2015) The p38alpha mitogen-activated protein kinase is a key regulator of myelination and remyelination in the CNS. Cell Death and Disease (Nature Publishing Group) 6,e1748.
Sohn J, Orosco L, Guo F, Chung SH, Bannerman P, Ko EM, Zarbalis K, Deng W, Pleasure D (2015) The subventricular zone continues to generate corpus callosum and rostral migratory stream astroglia in normal adult mice. Journal of Neuroscience 35:3756-3763.
Education
University of California Davis School of Medicine, Postdoctoral Fellow, 2009-2013
University of Calgary Cumming School of Medicine, Canada, PhD (Neuroscience), 2008
Chungnam National University College of Veterinary Medicine, South Korea, MS (Histology), 2003
Chungnam National University College of Veterinary Medicine, South Korea, DVM (Veterinary Medicine), 2001
Research Currently in Progress
Novel method of dental nerve regeneration by activating the complement system. Our research focuses on understanding the role of the complement system in nerve regeneration of human carious teeth. Currently, there have been no studies done on the effect of the complement system on dental nerve regeneration and its interaction with pulp fibroblasts. We found that the complement active fragment C5a receptors (C5aR) are ectopically expressed in human pulp fibroblasts shortly after carious injury and that blocking of C5aR resulted in an increased production of several nerve growth factors (neurotrophins). We are also interested in identifying the role of C5L2, which is a non-functional receptor and acts as a negative regulator of C5aR, in the nerve regeneration process. The C5aR and C5L2 studies in the regenerative process could provide innovative therapeutic strategy, i.e. the possibility to enhance and/or prolong the positive action of C5a in dental pulp regeneration by activating or blocking these "active" and "inactive" receptors. In addition, our preliminary biochemical assay demonstrates that C5a directly phosphorylates p38 MAPK. We hypothesize that C5a functions through p38 MAPK and targeting p38 MAPK pathway maybe a useful strategy for nerve regeneration. This project will provide a new insight on the initial step of dentin-pulp regeneration process by contributing to the poorly understood regulation of nerve fiber sprouting observed after tooth injuries and possible targeted therapies.
The role of p38 MAPK and Brg1 in nerve myelination and remyelination. The myelination of the nerves is critical to the efficient conduction of nerve impulses. We are focusing on identifying the molecular mechanisms of the p38 mitogen activated protein kinase and chromatin-remodelling factor Brg1 in nerve myelination and remyelination, hoping to identify new molecular targets and to chart disease pathways.