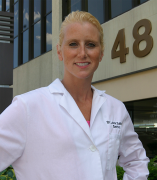 Linda Salmon, DDS '96
Director, UIC Alumni Board of Directors
About
Dr. Linda Renella Salmon grew up on the north side of Chicago in the Jefferson Park and Edgebrook neighborhood areas. She received her Bachelor of Science in Dentistry (B.S) from University of Illinois in Chicago and is a 1996 graduate of the UIC College of Dentistry where she received her Doctor of Dental Surgery (D.D.S). Immediately after graduating, she worked in the Oral Surgery Department at UIC College of Dentistry as an extern. In the fall of 1996, she moved to the Elgin-Aurora area and worked in a dental office in Aurora, Fox Valley Dental Care. She was primarily seeing patients with public aide assistance, HMO insurance plans and children from the Mooseheart residential Childcare facility. She really enjoyed taking care of such a range of patients with many special types of needs. In 1998, she moved back to Chicago and become part owner of a small dental practice in Oak Park, Oak Park Dental. She was part of the Rotary club, a local soup kitchen and took an interest in the Frank Lloyd Wright Foundation by being a part of many of their fundraisers and organized events. In 2001 she sold her practice to find a practice close to where she grew up in Chicago. She started to work at Associates for Dental Care in the Sauganash/Edgebrook neighborhood of Chicago in 2002 and in 2008 she bought part of the practice. She is still a dentist/owner of Associates for Dental Care today. This practice has been an amazing experience and an opportunity to connect with Chicago Police, Fireman and Chicago Public School teachers and principals. Dr. Salmon has a long history of being in dentistry before she started Dental School. She was the first in her immediate family to finish college and she is the first in her immediate family to become a dentist. In high school, she started working at the front desk at age 15 in her local dental office. She was trained there as a dental assistant to work in all the different areas of dentistry with all of the specialists and general dentists. This is where she discovered her affection for dentistry and decided to drive her studies in that direction. She continued to dental assist until she graduated as a dentist. She even assisted for the UIC Dental School Faculty Practice with Dr. Tim Toepke.
Her professional affiliations and memberships include: the American Dental Association (ADA), the Illinois State Dental Society (ISDS), the Chicago Dental Society (CDS), the Academy of Dentistry (AGD), the Arcolian Dental Society (Italian-American Dentists, she is a past president), the United States Dental Institute (USDI for general dentists who do Orthodontia), the Delta Sigma Delta Dental Fraternity (she is past president and past-scribe), the Pacific Aesthetic Continuum for esthetic dentistry (PAC-live), the Dental Organization for Conscious Sedation (DOCS), the Aesthetic Medical Educators Training (AMET) for dental training with neurotoxins and fillers, Implant Seminars for Implant Dentistry Education, and Seelah Freedom (for survivors of sex trafficking).
In her free time, Dr. Salmon likes to travel with her husband and 2 daughters to warm places to scuba dive and to cold places to ski. She also just loves to travel and has traveled all over the world. If she is not traveling, she will be practicing Italian, French or Spanish (still learning) or doing some running or boxing.
On a bonus note, she is happy to announce that her eldest daughter will be starting dental school Fall 2022 at UIC COD continuing her legacy. Her other daughter is at UIUC and hopes to also attend Dental school in a few years.