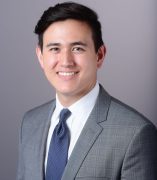 Matthew Rhee, D.M.D.
Orthodontic Resident
Orthodontics
Contact
Building & Room:
Room 131
Address:
801 S. Paulina Street, Chicago, IL 60612
Email:
About
Dr. Matthew Rhee was born in Berkeley, CA and raised in Sartell, MN.  He later would attend the University of Illinois at Urbana-Champaign obtaining a degree in Molecular and Cellular Biology with a minor in Chemistry in 2017. For his dental training, Dr. Rhee completed his Doctorate at the University of Illinois at Chicago in 2021.
In dental school Dr. Rhee participated in multiple student organizations serving in roles involving peer development as well as executive functions in groups such as the student chapter of the American Academy of Pediatric Dentistry and the Student Research Group.  His research interests during his pre-doctorate years included A.I. enhanced Orthodontic treatment planning, the oral health impacts of anxiety and depression, and socioeconomic disparities relating to the COVID-19 pandemic.  Dr. Rhee was the recipient of the American Association of Orthodontics Award, John W. Davis Orthodontic Scholarship Award and the Society for Color and Appearance in Dentistry Student Award of Merit.
In his free time Dr. Rhee enjoys playing golf, ice hockey as well as building and fixing cars.  He is also an avid fan of Hip-Hop music and loves exploring Chicago and its food scene. Giving him restaurant recommendations is strongly encouraged!