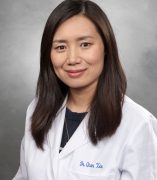 Qian Xie, DDS, MS, PhD
Assistant Professor, Director of the Endodontics Prepatient Care
Endodontics
Contact
Address:
UIC College of Dentistry 801 S. Paulina St., IL 60612
Email:
About
Dr. Qian Xie comes from Chengdu, China, and attended Sichuan University earning a DDS and PhD in 2005. Dr. Xie was conferred the Young Investigator Award from the American Association of Dental Research and also was honored for her poster on Geriatric Oral Science at the International Association for Dental Research meeting in Miami in 2009.
Dr. Xie returned to graduate school at the University of Illinois at Chicago College of Dentistry. She graduated in 2011 with a specialty certificate in Endodontics. Upon completion of the specialty program, Dr. Xie continues as a full time instructor at the University of Illinois Dental School.
Dr. Xie has been a member and an active participant in the American Association of Endodontists, the American Dental Association, the Chicago Dental Society and the Edgar D. Coolidge Endodontic Study Club. She also has numerous publications in leading professional journals including the Journal of Endodontics, the Journal of Dentistry, and Oral Microbiology and Immunology. She is a Diplomate of the American Board Of Endodontics.
Dr. Xie and her husband have two sons.
Scholarly interests
Dr. Xie researches endodontic irrigants and microbiology.
Selected Publications
Wei Zhao, Qian Xie, Ana Karina Bedran-Russo, Shuang Pang, Junqi Ling, Christine D. Wu. Preventive Effect of Grape Seed Extract on Artificial Enamel Caries Progression in a microbial biofilm-induced caries model. Journal of Dentistry, Volume 42, Issue 8, August 2014, Pages 1010-1018
Qian. Xie, B. Johnson, C. Wu. Efficacy of Berberine, an Antimicrobial plant alkaloid, as an Endodontic Irrigant Against Mixed-Culture Biofilm in an In vitro Tooth Model. J. Endod.2012; 38( 8), P 1114–7
Pavan S, Xie Q, Hara AT, Bedran-Russo AK. Biomimetic approach for root caries prevention using a proanthocyanidin-rich agent. Caries Res. 2011; 45(5):443-7.
S.M. Adair and Qian Xie. Antibacterial and Probiotic Approaches to Caries Management Advances in Dental Research, 2009, 21(No. 1), 87-89
Xu X, Li JY, Zhou XD, Xie Q, Zhan L, Featherstone JD. Randomized controlled clinical trial on the evaluation of bacteriostatic and cariostatic effects of a novel povidone-iodine/ fluoride foam in children with high caries risk. Quintessence Int. 2009 Mar; 40(3):215-23.
Qian Xie, Ana K Bedran-Russo, Christine D. Wu. In Vitro remineralization effects of grape seed extract on artificial root caries. Journal of Dentistry. 2008, 36(11): 900-6.
Qian Xie, Jiyao Li, Xuedong Zhou. Anticaries effect of compounds extracted from Galla Chinensis in a multi-species biofilm model. Oral Microbiology and Immunology. 2008, 23(6):459-65.
Xin Xu, Qian Xie, Xuedong Zhou, Jiyao Li. Effectiveness of povidone-iodine / fluoride foam treatment against caries-associated bacteria in 6-9 years old Children. Chinese Journal of Conservative Dentistry, 2007, 17, 276-279.
Qian Xie, Jiyao Li, Yuling Zuo, Xuedong Zhou. The effect of Galla Chinensis on the growth of cariogenic bacteria in vitro. West China Journal of Stomatology, 2005, 23 (1): 82-84
Zuo Yuling, Xie Qian, Li Jiyao, Xuedong Zhou. The experimental study of bacterial growth effected by Nidus vespae. Chinese Journal of Microecology. 2005, 15 (1): 23-25
Zuo Yuling, Xie Qian, Li Jiyao, Xuedong Zhou. An in vitro study on effect of Nidus Vespae extract on the acid production of three strains of oral bacteria. Journal of Sichuan University (Medical science edition) 2005, 36 (3): 33-35
Qian Xie, Weidong Tian. The development of oral and maxillofacial trauma information management system. Journal of Dental Research. 2003, 82(Sp. Iss. C): 332
Qian Xie, Weidong Tian. Review: The progress of tooth development. Foreign Medical Sciences: Oral Sciences. 2002, 29 (5): 271-273.
Education
College of Dentistry, University of Illinois at Chicago, Endodontics Certificate Program, 2011
West China College of Stomatology, Sichuan University, Chengdu, China, PhD of Oral Science, 2005
West China College of Stomatology, Sichuan University, Chengdu, China, DDS, M.S. of Oral Science, 2002
Professional Memberships
Diplomate of American Board of Endodontics
American Association of Endodontists
American Dental Association
Chicago Dental Society
Edgar D. Coolidge Endodontic Study Club