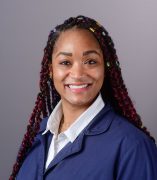 Alena Poe, DDS
Advanced Prosthodontics Candidate
Restorative Dentistry
Contact
Address:
801 South Paulina Street Chicago IL 60612
Email:
About
Dr. Alena C. Poe was born in Chicago, Illinois and raised in the South Suburbs of Chicago. As a child, her parent's commitment in the dental field sparked a passion for Dentistry early on. As she grew, her certainty yearning to purse the specialty of Prosthodontics was further cultivated by her father, a trained Prosthodontist.
Her journey began at Southern Illinois University- Carbondale, where she graduated with honors, receiving a Bachelor's degree in Biological Sciences. She earned her Doctor of Dental Surgery degree at Meharry Medical College in Nashville, Tennessee where she was awarded the title, "Ms. Meharry Medical College," serving as the college's ambassador for oral and systemic health promotion along with student advocacy. She then completed a two-year Advanced Education in General Dentistry Certificate Program at the University of Connecticut Health Center. From there, she transitioned to full time practice in Kotzebue, Alaska, serving as Lead Dentist for their regional tribal health organization. The oral health and treatment complexities she has experienced, in addition to her desire for clinical excellence while creating lasting patient relationships amplified her desire to purse specialty training in the field of Prosthodontics at UIC.
During Dr. Poe's free time she enjoys time with her family and friends, traveling, singing, and appreciating the blessings in her life.