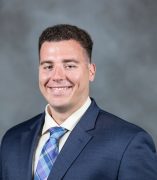 Philip Cannizzaro, DMD
Endodontic Resident
Endodontics
Contact
Address:
UIC Endodontics 801 S. Paulina St., IL 60612
Office Phone:
Email:
About
Dr. Philip W. Cannizzaro grew up in the northwest suburbs of Chicago and pursued undergraduate collegiate studies at the University of Illinois in Urbana-Champaign, majoring in Molecular and Cellular Biology and minoring in Chemistry. He graduated in 2016 with the following accolades: Highest Research Distinction, Specialization Certificate in Microbiology, Honorary James Scholar, and Magna Cum Laude. Dr. Phil also committed time to the community as a voluntary clinical and administrative intern at a federally qualified health center in Champaign, IL as well as in leadership roles for Silver Wings Service Organization, including Silver Wings National Conclave Co-Commander and Stephen R. Nagel Chapter President.
Attending University of Illinois at Chicago for his dental education, Dr. Phil immersed himself in American Student Dental Association and served in the following positions: UIC Chapter President, District 7 Leadership Development Chair, District 7 Chapter Outreach Representative, and D1 Class of 2020 Representative. He also participated in American Dental Education Association as a peer mentor in endodontics and class representative (D1, D2). Finding a passion in the field of endodontics, Dr. Phil was accepted into the Endodontics Enhanced Specialization Track and also assisted in teaching of pre-clinical endodontics during his fourth year. Dr. Phil graduated dental school in 2020 with the following achievements: American Association of Endodontics Student Achievement Award, Omicron Kappa Upsilon (OKU) Sigma Chapter Inductee, OKU Sigma Chapter William S. Kramer Award of Excellence, Dr. Harry Saxon Scholarship, Samuel J. Cascio Scholarship (2X), and Amy J. Cummins Scholarship.