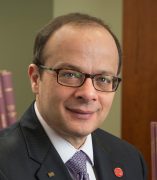 Mark J. Valentino
Associate Dean for Advancement
Contact
Address:
UIC College of Dentistry 801 S. Paulina St., IL 60612
Office Phone:
Email:
About
After serving in a UIC-wide advancement role since 2013, Mark J. Valentino in 2017 returned to full-time leadership of advancement operations at the University of Illinois at Chicago College of Dentistry as Associate Dean for Advancement. He joined the College of Dentistry as its first-ever Director of Advancement and Alumni Affairs in 1991, and was promoted to Assistant Dean for Advancement and Alumni Affairs in 1999. From 2013 to 2014, he was Interim Associate Vice Chancellor for Development for UIC. From 2014 to 2017, Mark served as the Assistant Vice Chancellor for Advancement for UIC, managing the day-to-day Advancement operations in the College of Dentistry while overseeing Directors in the College of Applied Health and Sciences, College of Education, the Graduate College, the Jane Addams College of Social Work, and the College of Urban Planning and Public Affairs.
From 1992 through 2000, Mark led the College of Dentistry through UIC's first-ever capital campaign—Campaign Illinois—and helped the program exceed its goal of $8.2 million by more than $3 million. Mark also led the College during the Brilliant Futures: Educating a New Dentist for America campaign, 2005 to 2012. The College exceeded its campaign goal of $35 million by raising $37.4 million in private gifts.
Mark has helped to raise nearly $60 million for the College of Dentistry during his time at UIC. These gifts have provided for endowed chairs, professorships, and fellowships; named scholarship funds; and renovated classrooms, research laboratories, and the renovation of the DMD and postgraduate clinics. Mark also has played a crucial role in the successful effort to engage Loyola University Chicago School of Dentistry alumni with the UIC College of Dentistry.
Mark received a Chancellor's Academic Professional Excellence (CAPE) Award for excellence from UIC in 1999 and was inducted into the Omicron Kappa Upsilon National Dental Honor Society in 2011. He received the Bernadine C. Washington Award from the City of Chicago and the Commission on Human Relations in 1997. He earned a BA in English from DePaul University in 1980.
Education
DePaul University, BA in English
Professional Memberships
Omicron Kappa Upsilon National Dental Honor Society
Chancellor's Academic Professional Excellence (CAPE) Award, 1999
Bernadine C. Washington Media Relations Award, Chicago Commission on Human Relations, 1997