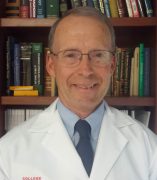 Mark C. Baker, BS, DDS
Co-Director of the Preclinical Course, Director of Sophomore Endodontics, Clinical Endodontic Liaison, Clinical Associate Professor
Endodontics
Contact
Address:
UIC College of Dentistry 801 S. Paulina St., IL 60612
Email:
About
Scholarly interests
Dr. Baker researches endodontic perforation repair and undergraduate endodontic teaching techniques.
Selected Publications
M. Rafter; M. Baker; M. Alves; J. Daniel; N. Remeikis. Evaluation of healing with use of an internal matrix to repair furcation perforations. International Endodontic Journal. 2002;35(9):775-783.
Mark C. Baker; Shahid H. Ashrafi; Joseph E. Van Cura; Nijole A. Remeikis. Ultrasonic compared with hand instrumentation: A scanning electron microscope study. Journal of Endodontics. 1988;14(9):435-440.