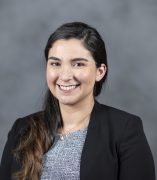 Mariana Fernandez Lozada, DDS
Advanced Prosthodontics Candidate
Restorative Dentistry
Contact
Address:
University of Illinois at Chicago College of Dentistry 801 S. Paulina Street, IL 60612
Email:
About
Dr. Mariana Fernandez Lozada is originally from  Caracas, Venezuela where she attended Santa Maria University and earned her  DDS degree. Following graduation, Dr. Fernandez Lozada worked in private practice while still giving back to the community providing dental care to underserved communities.
Dr. Fernandez Lozada moved to the United States to  further her training at University of Connecticut attending the Advance Education in General Dentistry program. After two years working at UConn, Dr. Fernandez   passion in restorative dentistry drove her to join the Prosthodontics department at UIC.
Dr. Fernandez believes serving people is her purpose in life. She considers that proper training, exposure and practice are necessary to provide the highest standard of dental care and plans to gain knowledge and skills to manage complex cases and improve her patients quality of life.
In her leisure time, Dr. Fernandez enjoys traveling, arts and spending time with family and friends.