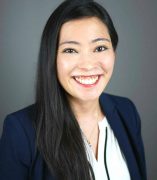 Ruidan Ma, D.D.S.
Orthodontic Resident
Orthodontics
Contact
Building & Room:
Room 131
Address:
801 S. Paulina Street, Chicago, IL 60612
Email:
About
Dr. Ruidan Ma is originally from Guangzhou, China, but her desire to explore the world led her to live in 7 different cities in 3 different countries since the age of 11. She graduated Summa Cum Laude from Vanderbilt University majoring in Spanish and Chemistry. She then completed her Doctor of Dental Surgery degree (DDS) from University of the Pacific in California, during which she received the American Student Dental Association Award of Excellence and OKU Award in Complex Restorative.
During her free time, Ruidan enjoys performing arts (she got on stage to talk about life of orthodontic residency during her first Second City audience experience), running, cooking and reading. Upon graduation, she plans to enter private practice and serve in a global context through patient care, education or research.