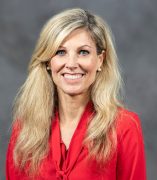 M. Beth Miloro, DDS, MPH
Director, Oral Medicine and Facial Pain Clinic, Clinical Assistant Professor
Oral Medicine and Diagnostic Sciences
Contact
Address:
801 S. Paulina Street, IL 60612
Email:
About
Biographical sketch
A native Iowan, Dr. Miloro attended the University of Iowa, where she received her undergraduate and dental degrees. Following dental school, she attended an Oral Pathology Fellowship at The Ohio State University. She has held academic positions at the University of Iowa and Creighton University. Since arriving at the University of Illinois, she earned a Masters of Public Health degree with emphasis in Health Policy and Administration. Her research interests are oral cancer and oral mucosal disorders.  She is director of the Oral Medicine and Facial Pain Clinic in addition to teaching General Pathology and Oral Pathology, and serves as a manuscript reviewer for the Journal of Dentistry for Children. She has participated in multiple community outreach events with students involving oral cancer education and oral cancer screenings.
Research Interests
Oral Cancer
Oral Mucosal Disorders (Lichen planus, pemphigoid, xerostomia)
Community Health/Health Policy
Teaching
General Pathology and Oral Pathology
Selected Publications
Miloro MB, Vujicic M. Physicians dissatisfied with current referral process to dentists. Health Policy Institute Research Brief. American Dental Association. March 2016.
 Kolokythas, A, Miloro MB, Olsson A, Miloro M. Metastatic pancreatic adenocarcinoma to the mandibular condyle: a rare clinical presentation. Journal of Oral and Maxillofacial Surgery 72(1); 83-88, 2014
Schuchmann MB, Miloro M, Allen CA.  Asymptomatic parapharyngeal mass. Oral Surg Oral Med Oral Pathol 83(4): 420-422, 1997.
Education
BS Psychology – University of Iowa
DDS – University of Iowa College of Dentistry
Fellowship in Oral Pathology – The Ohio State University
MPH – The University of Illinois at Chicago
Selected Presentations
Anderson, J, Miloro MB. Hemangiolymphangioma of the Tongue: A Case Report. University of Illinois, College of Dentistry, Clinic and Research Day 2018, Chicago, IL, March
Possible Cluster Incidence of Aerodigestive Cancers in Chicago Wards and Midwestern States. University of Illinois, College of Dentistry, Clinic and Research Day 2018/19, Chicago, IL, March