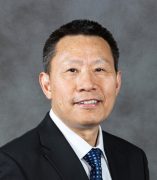 Lin Chen, MD, MS, PhD
Research Professor
Periodontics
Contact
Address:
801 S. Paulina St., IL 60612
Email:
About
Dr. Chen earned his MD in Clinical Medicine and MS in Infectious Diseases from Chongqing Medical University, China. After working in the First Affiliated Hospital at Chongqing Medical University as a physician for a few years, Dr. Chen went to Japan to pursue and earn his PhD from Yamagata University. Dr. Chen then took a two-year post-doctoral fellowship position in College of Medicine at Rockford, UIC, then became a Research Assistant Professor at the Department of Dermatology, College of Medicine at UIC. He moved to the Department of Periodontics, Center for Wound Healing & Tissue Regeneration, College of Dentistry in 2007 and was promoted to Research Associate Professor in 2016.
Scholarly interests
Wound Healing
Selected Publications
1. Zhao Y, Bao L, Chan LS, DiPietro LA, Chen L. Aberrant Wound Healing in an Epidermal Interleukin-4 Transgenic Mouse Model of Atopic Dermatitis. PloS one. 2016; 11(1): e0146451.
2. Chen L, Mirza R, Kwon Y, DiPietro LA, Koh TJ. The murine excisional wound model:  Contraction revisited. Wound repair and regeneration: official publication of the Wound Healing Society [and] the European Tissue Repair Society. 2015; 23(6):874-7.
3. Wietecha MS, Król MJ, Michalczyk ER, Chen L, Gettins PG, DiPietro LA. Pigment epithelium-derived factor as a multifunctional regulator of wound healing. American journal of physiology. Heart and circulatory physiology. 2015; 309(5):H812-26.
4. Chen L, DiPietro LA. Production and function of pigment epithelium-derived factor in isolated skin keratinocytes. Experimental dermatology. 2014; 23(6):436-8.
5. Chen L, Mehta ND, Zhao Y, DiPietro LA. Absence of CD4 or CD8 lymphocytes changes infiltration of inflammatory cells and profiles of cytokine expression in skin wounds, but does not impair healing. Experimental dermatology. 2014; 23(3):189-94.
6. Chen L, Schrementi ME, Ranzer MJ, Wilgus TA, DiPietro LA. Blockade of mast cell activation reduces cutaneous scar formation. PloS one. 2014; 9(1): e85226.
7. Turabelidze A, Guo S, Chung AY, Chen L, Dai Y, Marucha PT, DiPietro LA. Intrinsic differences between oral and skin keratinocytes. PloS one. 2014; 9(9): e101480.
8. Chen L, Guo S, Ranzer MJ, DiPietro LA. Toll-like receptor 4 has an essential role in early skin wound healing. The Journal of investigative dermatology. 2013; 133(1):258-67.
9. Chen L, Gajendrareddy PK, DiPietro LA. Differential expression of HIF-1α in skin and mucosal wounds. Journal of dental research. 2012; 91(9):871-6.
10. Wietecha MS, Chen L, Ranzer MJ, Anderson K, Ying C, Patel TB, DiPietro LA. Sprouty2 downregulates angiogenesis during mouse skin wound healing. American journal of physiology. Heart and circulatory physiology. 2011; 300(2):H459-67.
11. Ranzer MJ, Chen L, DiPietro LA. Fibroblast function and wound breaking strength is impaired by acute ethanol intoxication. Alcoholism, clinical and experimental research. 2011; 35(1):83-90.
12. Chen L, Arbieva ZH, Guo S, Marucha PT, Mustoe TA, DiPietro LA. Positional differences in the wound transcriptome of skin and oral mucosa. BMC genomics. 2010; 11:471.
Complete List of publications:
http://www.ncbi.nlm.nih.gov/myncbi/browse/collection/42702827/?sort=date&direction=descending
Research Currently in Progress
Dr. Chen's research is supported by research grants funded by the NIH, DOD, and industry. His primary research interests are immune response and angiogenesis in cutaneous and mucosal wound healing.