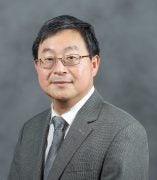 Kyint Chwa, DDS, MS
Clinical Associate Professor of Orthodontics
Orthodontics
Contact
Address:
College of Dentistry 801 S. Paulina Street, IL 60612
Email:
About
Dr. Kyint Chwa is a clinical assistant professor in the Department of Orthodontics, University of Illinois at Chicago.  He also taught at Northwestern University Dental School, Orthodontic Department as clinical assistant professor before he joined UIC.
Dr. Chwa began his dental education at the Institute of Dental Medicine in Yangon, Myanmar where he received his Bachelor of Dental Surgery degree in 1984.  After that he completed his internship residency training at Department of Pedodontics and Orthodontics at Institute of Dental Medicine and Departments of Plastic, Maxillo-facial and Oral Surgery and Dental Out-patient Department at Rangoon General Hospital, Yangon, Myanmar.  He continued his education at Northwestern University Dental School in Chicago and received his Doctor of Dental Surgery in 1992.  He obtained his Certificate of specialty in Orthodontics and Master of Science degree from Northwestern University in 1994.  He has been practicing full time and teaching part time since.
Scholarly interests
Early orthodontic treatment in the mixed dentition, adult orthodontics and Interdisciplinary care, clinical orthodontics.
Selected Publications
Direction and magnitude of postsurgical changes following mandibular advancement with rigid fixation, M.S. thesis, Chwa KH, Marshall SD, Jacobson RS, Kallal RH, Forbes DP. Northwest Dent Res. 1994 Fall;5(1):8-12.
The effect of mandibular rotation on molar position, Kristofor C, Skarin D, Forbes D, Chwa K. Northwest Dent Res. 1997 Spring;7(2):16-27.
Mixed dentition analysis for Asian-Americans, Lee-Chan S, Jacobson BN, Chwa KH, Jacobson RS. Am J Orthod Dentofacial Orthop. 1998 Mar;113(3):293-9.