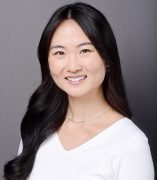 Sara Kahng, D.D.S.
Orthodontic Resident
Orthodontics
Contact
Building & Room:
Room 131
Address:
801 S. Paulina Street, Chicago, IL 60612
Email:
About
Dr. Sara Kahng grew up in Tarzana, California. She graduated from the University of California, Los Angeles and earned her Bachelor of Science in Psychobiology in 2015. She continued her education at the University of Southern California School of Dentistry and earned her Doctor of Dental Surgery degree in 2020.  During her time in dental school, Dr. Kahng was involved in community outreach dental programs and conducted cleft palate research. She received the Academy of Excellence in Dentistry Scholarship, the Dental Alumni Association Scholarship, and the Dr. Clifton Dummett Endowed Scholarship. She is also a member of the OKU Zeta Chapter Honor Society.
During her spare time, Dr. Kahng enjoys running, baking bread, picnics, and farmers markets. She is an avid dog lover and can't wait to have one of her own. She loves traveling and is excited to explore Chicago! Upon graduation, Dr. Kahng plans to become ABO certified and enter private practice.