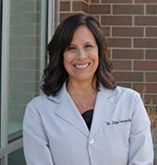 Julie Laverdiere Beck, DDS '90, OMFS '95
Director, UIC Dental Alumni Board of Directors
About
Dr. Julie Laverdiere Beck is a 1990 graduate of the University of Illinois at Chicago College of Dentistry. Dr. Laverdiere Beck is board certified by the American Board of Oral & Maxillofacial Surgery and the American Dental Society of Anesthesiology. Dr. Laverdiere Beck completed a general practice residency at Illinois Masonic Medical Center where she gained extensive knowledge in all aspects of dentistry. She earned her Certificate in Oral and Maxillofacial Surgery from the College in 1995, and her specialty training was performed at the University of Illinois, Michael Reese, West Side VA, and Cook County Hospitals.
Dr. Laverdiere Beck has been in private practice in Glenview since 1995 and has also been actively involved with organized dentistry and has held several chair committees.
Dr. Laverdiere Beck serves on the Board's General Events and Reunion Committees.