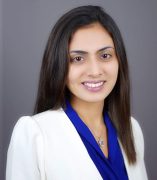 Juhi Uttamani
Postgraduate Resident
Periodontics
Contact
Building & Room:
Room 331
Address:
Peridontics Department 801 S. Paulina st, IL 60612
Email:
About
Clinical activities & specialties
Dr. Juhi R. Uttamani was born and raised in Mumbai, India. Dr. Uttamani is a dual degree PhD/Periodontics Residency candidate. Upon completion of her Bachelors of Dental Surgery (B.D.S.) from Mumbai, India, she has been actively engaged in the field of dentistry and research, alike. She started her PhD in Oral Sciences program at the University Of Illinois at Chicago in 2015. Her research focusses on identification and characterization of miRNAs and inflammatory markers that modulate periodontal disease. Her dissertation project entitles "The role of miRNAs in the resolution of periodontal inflammation: A therapeutic intervention study in humans". She has had several peer-reviewed publications in the realm of periodontology and immunology in esteemed journals like Journal of California Dental Association, Frontiers in Immunology, International Journal of Molecular Sciences, International Dental Journal, etc. She has zealously participated in many health care programs organized by the Indian Medical Association and Helen Arkell Center, United Kingdom. In her spare time, she enjoys visiting new places and vacationing with family, when at leisure.