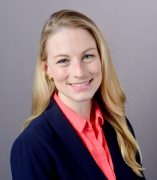 Jackie Wisinski, DMD
Endodontic Resident
Endodontics
Contact
Address:
UIC Endodontics 801 S. Paulina St., IL 60612
Email:
About
Dr. Jackie Wisinski has called Chicagoland her home for as long as she can remember. She received her Doctor of Dental Medicine Degree from the University of Illinois at Chicago. During dental school she received the Dr. Gearson Gould & Mr. Sol H. Gould Memorial Scholarship and a case presentation award from the Illinois Academy of General Dentistry. She was also elected to be a member of the Omicron Kappa Upsilon Dental Honor Society. Prior to dental school, Dr. Jackie earned her bachelor's degree from Loyola University Chicago, her Master in Business Administration degree from Webster University and her Master of Biomedical Sciences degree from Midwestern University.
Dr. Jackie is a member of the American Association of Endodontists, the American Dental Association, the Chicago Dental Society, the Illinois State Dental Society, and the Academy of General Dentistry. She additionally holds a membership with the American Dental Education Association where she was very active during her time at dental school. Prior to residency, she enhanced her passion for teaching and mentorship as a pre-clinical faculty member at the UIC College of Dentistry and enjoyed caring for patients in private practice.
Upon completion of her endodontic residency, Dr. Jackie plans to become a Board-Certified Endodontist and continue patient care in private practice. She also intends to expand her passion for teaching by returning to an academic setting as a faculty member.
When not immersed in patient care, she can usually be found outdoors training for a race, playing at the park with her dog (Bailey), or enjoying the city with her husband of 11 years and their son. Dr. Jackie values efficiency, humility, collaboration, and open communication in all that she does, and believes these principles facilitate compassionate, patient-driven experiences.