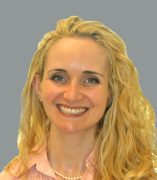 Katharine Howard
Orthodontic Resident
Orthodontics
Contact
Building & Room:
Room 131
Address:
801 S. Paulina Street, Chicago, IL 60612
Office Phone:
Email:
About
Dr. Katharine Howard grew up in the western suburbs of Chicago.  She graduated from Benedictine University in 2018 with a major in Health Science and a minor in Mathematics prior to attending the University of Illinois Chicago College of Dentistry, where she earned her DMD degree in 2022.
Dr. Kate was an active member of several student organizations throughout her time in dental school, including serving on the executive boards of the American Association of Women Dentists and the Practice Management Club.  She also co-founded and served as president of the Orthodontics Club at UIC.  Her research interests include evaluating the demographic and clinical relationships between COVID-19 and obstructive sleep apnea, and she has presented her research at national conferences such as the Hinman Research Symposium at the University of Tennessee in 2021, the American Association for Dental, Oral and Craniofacial Research's annual session in 2022, and the American Association of Orthodontists' annual meeting in 2022.  When she graduated, Dr. Kate was named as an A.C.E. Student Scholar and was awarded the American Association of Orthodontics Award, the American Institute of Orthodontics Award, and the Dr. Susan A. and Dr. Daniel A. Rowan Scholarship.
Dr. Kate is a self-taught artist and enjoys drawing in her free time.  She also enjoys travelling with her family, trying new restaurants, and attending Broadway musicals.  Upon graduation, she plans to become board certified, enter private practice, and potentially teach part-time.