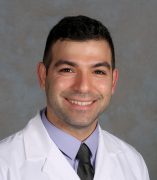 Ghaith Darwish, DDS
Clinical Instructor
Restorative Dentistry
Contact
Address:
801 S. Paulina St., IL 60612
Email:
About
Dr. Darwish received his D.D.S degree from the University of Illinois at Chicago. Dr. Darwish was inducted into the Omicron Kappa Upsilon Honor Society, representing the top 10% of the class. After graduating dental school, he enrolled in a  three year residency program in Advanced Prosthodontics at the University of Illinois at Chicago. He  gained  an in-depth experience related to the philosophies and principles of prosthodontics treatment:  fixed, removable, implant,  maxillofacial prosthodontics, the fundamental rationale of clinical and laboratory techniques, CAD/CAM, biomechanics and dental material selection. While completing clinical work, he continued his education by enrolling in the Master's Degree Program for Advanced Graduate Dentistry and Oral Services through the University of Illinois. Dr. Darwish spent time researching ways to improve  poly-methyl-methacrylate (PMMA) using a Nano-ceramic coating. Dr. Darwish, also works as clinical instructor and a part-time faculty member at the University of Illinois Department of Restorative Dentistry. He supervises students doing various dental procedures, ensuring that they are excellent and competent clinicians upon graduation. In his free time, he loves traveling and enjoys photography. 
Dr. Darwish has the start of a remarkable career in the advanced dentistry.  He is driven, ambitious, compassionate,  skilled and capable  of helping  patients that need his skill set to be able to live healthy and productive lives again.