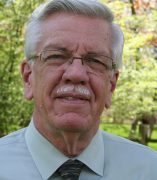 Dr. Robert Hawkinson, DDS, MS
Clinical Assistant Professor
Endodontics
Contact
Address:
UIC College of Dentistry 801 S. Paulina St., IL 60612
Email:
Selected Publications
M.S. Thesis: The microscopy of dental tissues in the enamel-free region of rat molars(1980)
Technique and procedures of a post space preparation using hand instrumentation (1981)
Indications for post space preparation (1981)
Taking in-treatment endodontic radiographs (1983)
"Electron microscopy of dentinal tubule sclerosis in the enamel free region of the rat molar," Arch. Oral boil. 28 28:401-414, 1983"A comparison of Thermafil to lateral condensation obturation techniques: A radioisotope leakage study."Icelandic Dent. J. 10:7-11, 1992
"The smear layer and bacterial penetration of radicular dentinal tubules," J. Endod. 20:196, 1994 (Abstract)
"The effect of CO2 laser irradiation on PLD cell attachment to resected root surfaces," Oral Surgery, Oral Medicine, Oral Pathology, oral Radiology, Endodontics, 97:518-523, 2004
Education
MS Histology, University of Illinois at Chicago, 1980
Endodontics Certificate, University of Illinois at Chicago College of Dentistry, 1976
DDS, University of Illinois at Chicago College of Dentistry, 1972
Professional Memberships
American Dental Association and Component Societies
American Association of Endodontics
Wheaton Dental Society
Annual Midwest Seminar and Dental Medicine
Motorcycling Doctors Association
Research Currently in Progress
Research in the fields of dental histology (dentin morphology; cellular control in mineralizing tissues); microbiology and radicular dentin infection and permeability.